Toyota Music Factory (TMF) is open for business and somewhere you need to check out, stat! Food, fun, entertainment will meet you in this walk-able entertainment district. If the music is calling you, you'll find tunes that will make you boot scootin' boogie all the way to soulful R&B. Check back often as chart-topping performers are added weekly to The Pavilion's lineup. So if you haven't been here before, read along as we reveal the 3 things you need to know when planning your visit to TMF!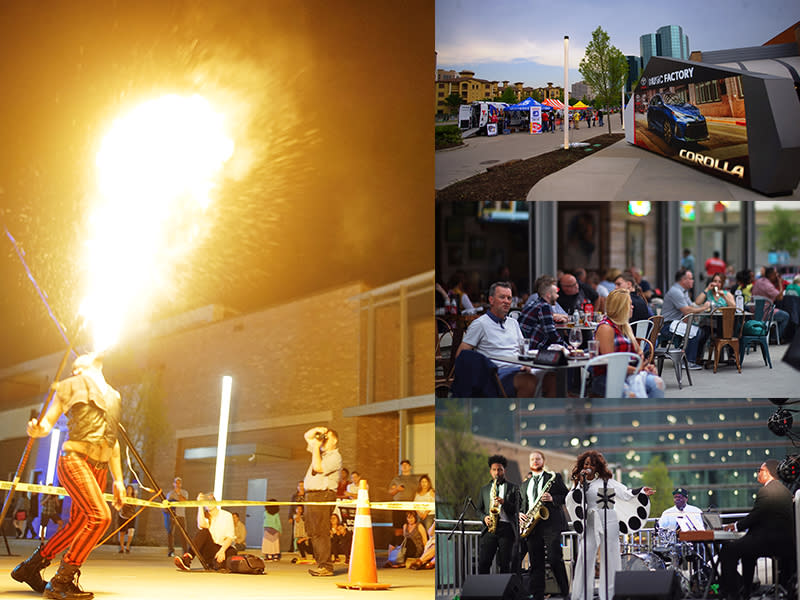 How to Get There
The TMF is located right by Highway 114 and the Las Colinas Urban Center DART station, making it an entertainment hub that is easy to get to from across the DFW Metroplex. When getting here via the DART trains, be sure to ride the Orange Line. For those who are driving to TMF, there are parking spaces available at the Toyota Music Factory Garage - restaurants may validate up-to two hours for complimentary parking. Valet parking is also available by Boi Na Braza. During show nights at The Pavilion, self-parking will be available at Urban Towers Garage and Toyota Music Factory for $10.
What to Eat There
The culinary possibilities are endless here with 20+ dining options featuring everything from Mexican, Brazilian, Japanese, to New American cuisines and more. We have personally been to TMF several times, and we still have a lot more to discover! Enjoy the half yard beers at Yard House, savor some coal brick-oven pizzas at Grimaldi's, or enjoy the stellar patio at Reservoir! We also love the more casual options like The Country's Best Yogurt (TCBY), the popsicle shop called Pop Factory, and the vegetarian-friendly juicery/eatery called Freshii. To view the complete restaurant list, click here.
What to See & Experience There
The spectacular live performances at The Pavilion of course! This three-in-one venue can transform into an amphitheater that fits up to 8,000 attendees. We were there for Chris Rock's Total Black Out Tour last year, and it was amazing! Very spacious, comfortable, and the food served within the Pavilion was actually pretty good. Another thing you definitely have to experience at the TMF is the live music performances throughout the venues and concert nights, Thursday-Saturday at Texas Lottery Plaza. Feel like watching a movie? Check out the Alamo Drafthouse, where you can order food and drinks right from inside the movie theater. To view The Pavilion's event calendar, click here. To find schedules of new restaurant openings and other events that are going on at the Toyota Music Factory complex, click here.
So what are you waiting for? Come to the Toyota Music Factory and see why #IrvingRocks! Visit their website and follow them on Instagram @ToyotaMusicFactory for more updates. To find out more about all the fun stuff to do in Irving, be sure to follow @VisitIrvingTX.
by Debora Manusama-Sinaga & Roselle Pliego