Home to some of the nation's top Fortune 500 companies and nestled in the middle of the fourth largest metropolitan area in the country, Irving is bursting at the seams with premier places perfect for your next meeting or party. To help you plan your next happening, we've rounded up a few of Irving's event venues. 
1. Irving Convention Center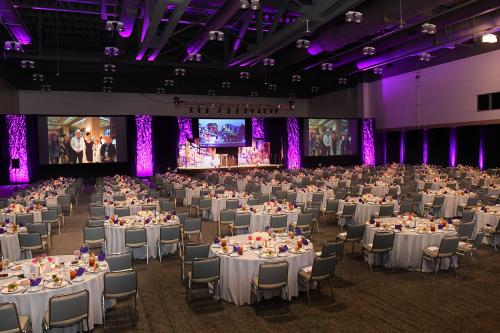 Nothing is as iconic in Irving as hosting an event at the stunningly beautiful Irving Convention Center at Las Colinas, a sophisticated, modern building poised along the Irving skyline. Its smart architectural details and sweeping views from the terrace will make an outsized impact on your guests. The building is massive, nearly 100,000 square feet of space can accommodate groups of 800 to 4,000. Every room in the building is equipped with all the latest technology, and the way the Irving Convention Center is designed provides ample opportunities for attendees to interact. If you're planning a large gathering and want to make a splash, take a close look at the Irving Convention Center.
2. Irving Arts Center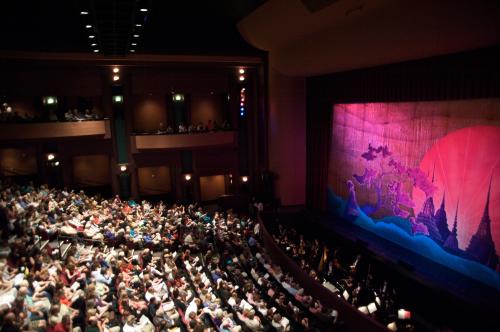 Spacious theaters and an accompanying lush sculpture garden at the Irving Arts Center make it the ideal space to host an occasion. For weddings, wow your group with a perfectly romantic setting, including a lovely courtyard beneath a canopy of lights. If you're looking to bring your next business conference to Irving, the Irving Arts Center provides a variety of ample meeting rooms that hold 25 to 200 seated guests. An event in this breathtaking venue full of artwork, along with the Center's surrounding beauty, will make for a very memorable gathering.
3. NOAH'S of Las Colinas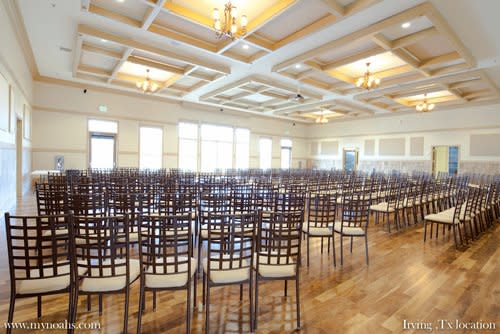 Surrounded by greenery, NOAH'S of Las Colinas is a unique venue providing both romantic touches for weddings or anniversary parties and functional assembly spaces for corporate happenings, suitable for parties of up to 300 people. NOAH'S offers elegant details, such as breathtaking flower boxes and awe-inspiring suspended cake tables, to impress your guests and make your function one to remember. Contact the friendly staff at NOAH'S to schedule a tour and learn more about how the atmosphere can be transformed to meet your needs.
4. Surti Leuva Patidar Samaj Event Center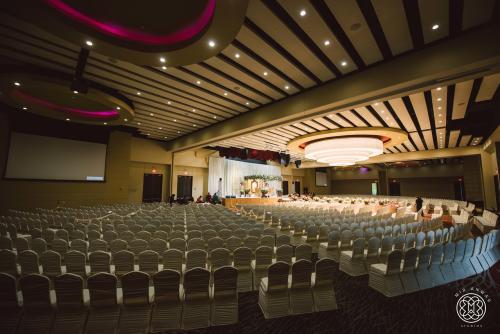 The SLPS Event Center is the perfect site for any occasion that demands a touch of sophistication and elegance. The luxurious ballroom can host up to 1100 guests reception style and 2000 guest theater style seating. It comes fully equipped with built-in screens, projectors and state-of-the-art audio/visual equipment. To help create the perfect ambiance for your occasion. Whether you envision an intimate commemoration with just you and your beloved, or a festive gathering of family and friends, rest assured every detail will be meticulously handled to perfection. They can handle all events, pick from many packages and customizable floor plans to rival any weddings, all pre-wedding events, quinceañeras, birthday parties, anniversaries and corporate events.
5. La Cima Club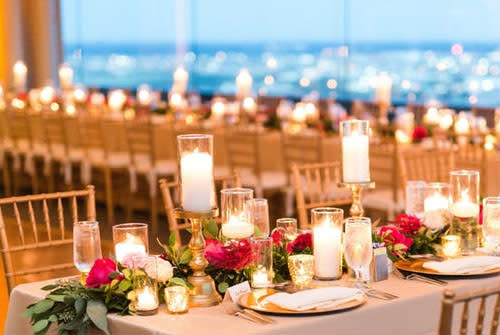 Located high up in the central tower of The Towers at William Square, La Cima Club is an exquisite private club. With alluring reception halls and spacious dining rooms, this 26th-floor aerie can accommodate a seated dinner for up to 250 people or a cocktail party for as many as 500. Treat attendees to gorgeous views of the Dallas skyline and Lake Carolyn, along with selections from the club's rich menu. Spoil your guests with special house-made charcuterie, delicious apple cider-brined chicken, and paired wines. Whether you're looking to host an intimate rehearsal dinner or large corporate event, La Cima Club has planners available to assist you and take care of all the details.
6. Venetian Terrace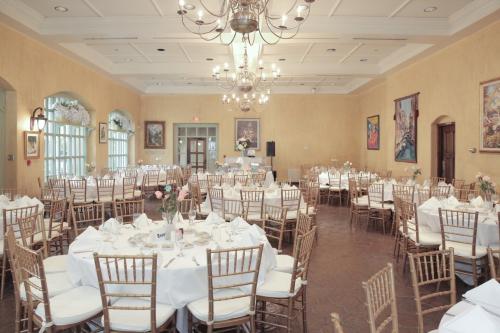 Venetian Terrace is said to be one of the most romantic European style venues in Texas. Located on the historic Mandalay Canal in Las Colinas. Imagine a romantic atmosphere with European elegance, created with cobblestone walkways and the architecture of Italy arched windows and antique accents in the ballroom garden terrace with twinkle lights shimmering onto Canal waters. A truly unique site for indoor or outdoor weddings, candlelight receptions, canal site garden terrace ceremonies, rehearsal dinners and private parties. If the beautiful atmosphere doesn't do it for you, you'll for sure be won over by the gourmet cuisine and impeccable service.