Downtown Irving, also known as the Heritage District, showcases the old and new features of Irving. Reminiscent of small-town America, it combines views of growth and prosperity with nostalgia. Recognized as a Best Neighborhood by the Dallas Morning News, Irving's downtown allows you to quietly stroll past soda shops, antique stores and tree-lined streets. Between the shopping and nature walks at Centennial Park, enjoy these delicious restaurants of downtown Irving! 
Big State Fountain Grill
100 E Irving Blvd  
The perfect place to enjoy a creamy milkshake or stacked high burger, Big State Fountain Grill is an Irving icon! Its classic 50's diner vibes will transport you to a time of Americana nostalgia and the food will keep you coming back for more. 
Di Rosani's Italian Restaurant & Wine Bar
105 S Main St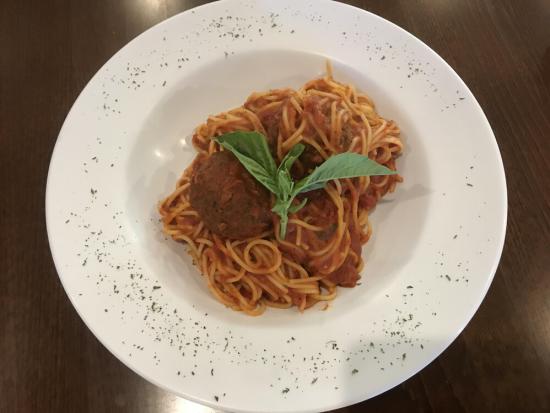 Authentic, homemade Italian recipes and a great wine list? Sign me up! Di Rosani's is the ideal neighborhood hangout where you are treated like family and the staff is always happy to see you. Start off with a savory bang with fresh garlic breadsticks, then dive into their delicious pizza or pastas, and always leave room for amazing desserts like tiramisu.
Glory House Bistro & Catering Company
109 S Main St  
Whether looking for a reliable caterer for your next event or a place to host a party, Glory House has you covered. With 22 years of experience, Glory House creates the perfect event with custom menus and down-home cooking! 
Joe's Coffee Shop
425 W Irving Blvd  
Offering freshly baked pies and hot coffee - something we all need in life - Joe's Coffee Shop is the best place to indulge in downtown Irving. Whether breakfast or lunch, Joe's provides that homey feeling with great comfort food. Since 1969, Joe's has been serving the Irving community and we love seeing this icon enjoyed by locals and visitors alike.
Sapp Sapp
120 S Main St  
For some of the best Pho and Vietnamese cuisine in Irving, head to Sapp Sapp. Famous for their giant beef rib pho, you will find something for everyone on their expansive menu of fresh salads, savory noodles and flavorful rice entrees. Order to go for the ultimate takeout night or enjoy their bright, welcoming dining room.
Rice Wok Express
406 E Irving Blvd  
Classic Chinese dishes we all know and love are available Monday - Saturday at Rice Wok Express. Mongolian beef, lo mein, orange chicken, and so much more are served hot and fresh for all. It's the perfect stop for casual dining in Irving between shopping and sightseeing.
Villa's Grill
137 S Main St  
For an all-you-can-eat, high-quality steak experience in downtown Irving, Villa's Grill is the place to go. It's an authentic Brazilian steakhouse serving an assortment of quality beef (picanha), lamb, chicken and pork directly to your table. Villa's is a great spot to spend a special occasion, birthday, or simply have a great family dinner. The salad bar features a wide variety of options, including homemade Brazilian beans and rice, just like their avó (grandma) used to make. So you know where I will be between meat courses!