Crisp air, falling leaves, and cocktails to warm you from the inside out. Cold weather is finally here after a blistering summer and a toasty Texas fall, and Irving has all you need to enjoy this beautiful season. Hot or over ice, move aside pumpkin spice lattes, the fall cocktails of Irving are here! 
5240 N. O'Connor Blvd. #160 | (214) 496-0590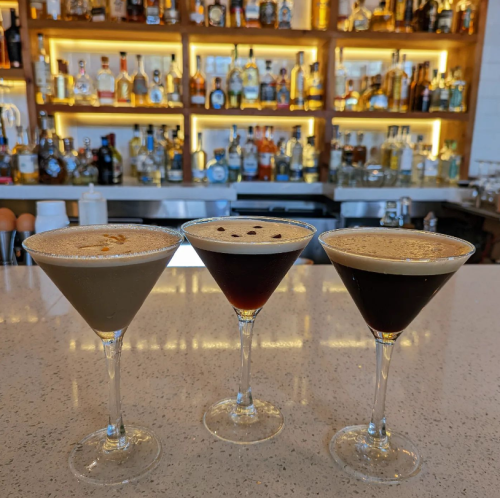 As a Texan I think margaritas are appropriate for any time of the year, but you do not want to miss out on the limited-feature seasonal cocktails from Hugo's Invitados. For something classic and warming, try their "Fall Old Fashioned" which has a hint of cinnamon. For the caffeine addicts that love a good time, Hugo's is also featuring three seasonal espresso martinis. Sip and savor on the "Classic Espresso Martini" made with vanilla vodka, coffee liqueur and a house-made double espresso. Be bold with the "Mexican Espresso Martini" featuring Reposado tequila, house-made double espresso, vanilla liqueur and cold brew liqueur. Finally, dive fully in with the "Pumpkin Spiced Martini" with organic vodka, pumpkin spice liqueur and a double espresso.

Is anything better than a chilly evening with warm cocktails? Well, it does get better, because you can get both this winter alongside some amazing craft food and friendly service at Cork & Pig Tavern. From double-cut pork chops and crispy chicken sandwiches to pizzas fresh out of the oven, Cork & Pig is the perfect cozy spot to enjoy dinner as the temperatures outside continue to drop. The perfect end to any meal at Cork & Pig is a hand-crafted hot toddy from their skilled bartenders. Whiskey, honey, lemon, and hot water all blend together for the most comforting sips.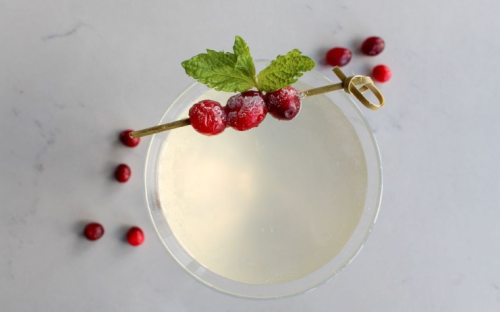 If cranberry sauce is your favorite side at Thanksgiving, then you are going to love the "Winter White Cosmopolitan" from Thirsty Lion Gastropub. It's the perfect cocktail to get you in the holiday feel with vodka, St. Germain Elderflower liqueur, fresh lime juice, white cranberry juice, garnished with sugared cranberries and fresh mint. Not only will this craft cocktail make you feel thankful for your local bartenders, but in the season of giving, Thirsty Lion will be donating a portion of the sale to the No Kid Hungry foundation from now through the end of December. The seasonal menu also features a "High West Maple Old Fashioned" with High West American Prairie Bourbon, pure maple syrup, orange, lemon, Angostura Bitters and soda water to help you unwind from all the "pre" and "post" holiday craziness.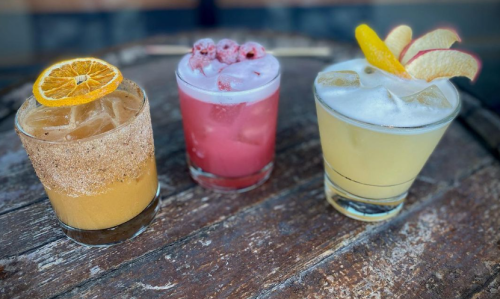 Whiskey Cake is known for its amazing crafted cocktails that feature local ingredients. Some are even grown right on-site, so you know they are going all out to celebrate the changing of the leaves. Three new seasonal cocktails are now available for afternoon patio sipping or a cozy and delicious dinner indoors. Dessert in a glass is always a good idea, and the "Sumpin Pumpkin" is what cool weather dreams are made of with bourbon, pumpkin pie simple syrup, oat milk and cold brew coffee. The perfect light and crisp cocktail "Gin Up, Buttercup" features gin, framboise, lemon, simple syrup, egg white and cranberry bitters. And last but definitely not least, the "Johnny Appleseed" is a must-try this cold weather season with bourbon, apple-fennel simple, lemon, egg white and apple bitters. 
The Keg Steakhouse + Bar
859 W. John Carpenter Fwy. | (972) 556-9188

A meal with The Keg Steakhouse + Bar is always a treat, and they are brewing up the most grand winter whiskey cocktail. "Canadian Coffee" will warm your spirits with whiskey, maple cream and a maple cookie crumble. If you are looking to enjoy a sip with your amazing steak dinner, the "Grand Fashioned" is back by popular demand just in time for the holiday season. The perfect combination of bitter, sweet, and citrus, the "Grand Fashioned" features Woodford Reserve, Grand Marnier, charred orange and orange bitters.