Are you yearning for an exciting staycation that combines relaxation, adventure, and mouthwatering cuisine? Look no further than the Marriott Las Colinas! Located in vibrant Las Colinas, this delightful hotel promises a memorable getaway filled with fun activities, delectable dining, and endless entertainment options. Let's dive into the wonders of Marriott Las Colinas and explore the exciting things to do in this lively urban center.
Stay in Style
Step into a world of comfort and luxury at the Marriott Las Colinas. With stylishly appointed rooms and top-notch amenities, your staycation is sure to be a blissful experience. Swim a lap or two at the heated indoor pool or hit up the expansive fitness center, or simply unwind in the cozy embrace of your room overlooking the beautiful Lake Carolyn. The Marriott Las Colinas offers the perfect balance of well-being, relaxation and adventure.
Location, Location, Location
Take a leisurely stroll along the scenic waterfront, soaking in the beautiful views and fresh air on your way to Water Street, where you can grab a gourmet coffee at Pax & Beneficia, drink at the local watering hole at The Ginger Man, flex your sweet tooth for an after-dinner treat at Creamistry or even pop in for a mani or pedi at Ciel Nail Lounge. Water Street has you covered and it is located less than a 10-minute walk from your bed! The hotel is situated in the perfect location for fun and convenience, just nine miles from the Dallas/Fort Worth International Airport and a seven-minute walk from the Mustangs of Las Colinas. 
Savor Culinary Delights
Prepare your taste buds for a culinary adventure like no other. Within the Las Colinas area, you'll discover a plethora of gastronomic delights. Start your day at the hotel's own restaurant, Bistro Fiera, enjoying a scrumptious Mediterranean breakfast with a stunning view.
For lunch, head to Via Real and savor their delectable Southwestern & Tex-Mex cuisine which will leave you craving more. Known for its vibrant flavors and innovative twists on traditional dishes, Via Real has captured the attention of food enthusiasts and critics alike with its mouthwatering Sea Bass Enchiladas, but honestly, you can't go wrong with anything on the menu. Their salsa is one of a kind and has been handmade by Carlos who has worked at Via Real for the last 27 years! He also makes a special habanero sauce, so if you like to heat things up be sure to request a side of it while you're there. 
In the evening, indulge in a fine dining experience at The Ranch, known for its mouthwatering Garlic Stuffed Fillet and lively Texan atmosphere. If you came extra hungry you must try The Ranch's A Bar N Wagyu Tomahawk 33-ounce steak. It is a carnivorous delight with its impressive size and succulent flavor. Las Colinas is a food lover's paradise!
Hit the High Notes with Toyota Music Factory
The nearby and walkable Toyota Music Factory, a buzzing entertainment complex, offers visitors all they need for a little fun and excitement. Catch a movie at the state-of-the-art cinema at the Alamo Drafthouse, and enjoy a live performance at The Pavilion, where renowned artists grace the stage or throw down with some axes at Stumpy's Hatchet House. The Texas Lottery Plaza is a must-visit. From free live music acts to fun-filled festivals, the lively central spot in Irving's entertainment complex brings people together for unforgettable fun and celebration.
Embark on Outdoor Escapades
Las Colinas boasts a wide range of outdoor activities that cater to every adventurer. Explore the scenic beauty of the Campion Trail, a picturesque pathway perfect for walking, jogging, or cycling. Take a leisurely boat ride on Lake Carolyn, admiring the breathtaking views and soaking up the sunshine. If you're seeking a thrill, try your hand at stand-up paddleboarding or kayaking down the Mandalay Canal.
Marriott Las Colinas
223 W Las Colinas Blvd. | (972) 831-0000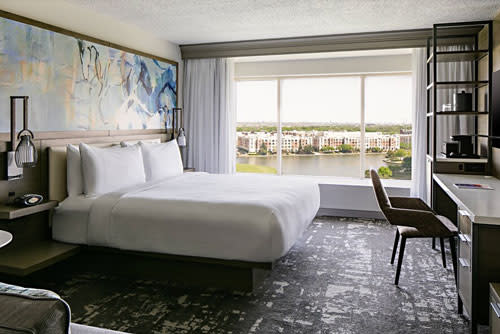 With the Marriott Las Colinas as your home base, your staycation is bound to be a thrilling and unforgettable experience. From modern accommodations to tantalizing dining options, and exciting activities, Irving-Las Colinas offers something for everyone. So, pack your bags, put on your adventure hat, and get ready to create wonderful memories in Irving, Texas! 
Whether you're searching for somewhere romantic or hunting for a place that's fun for the whole family, check out these special offers to help sweeten your stay.