Easter is a traditional time for family gatherings and celebrations, and eateries all around Irving are hatching ideas to bring you a scrumptious holiday meal. Also, don't forget those photos with the Easter Bunny or Easter egg hunts in the park. So treat yourself and your special somebunnies to an amazing Easter with these suggestions below!
Blaze Brazilian Steakhouse 
310 W Las Colinas Blvd. | 469.208.7977  
You can find this hidden Easter egg at the Toyota Music Factory. Why is it hidden? Because Blaze Brazilian Steakhouse doesn't serve your traditional Easter ham. Instead they'll be serving up an Easter feast fit for any celebration. Reservations are open beginning at 11 a.m., and meals are accompanied with live music featuring their very own DJ Tommie Blaze. Reservations can be made online or by calling 469.208.7977. Brunch prices average around $60 plus tax and tip.
Boston Market
2705 N Belt Line Rd  |  972.594.6014 5487 N MacArthur Blvd  |  972.756.0772  
Your first decision will be whether to eat out or eat in, because the Irving Boston Market locations offer both choices. With mouth-watering, dine-in meals including honey-glazed, hand-carved ham, you can bring your whole fluffle in for a mess-free dine-in Easter dinner. Or order up a hop 'n go meal to heat and serve in your own burrough. Order now and pick up between Wednesday, Apr. 13, through Sunday, Apr. 17. To-go meals (including rolls and dessert) average from $15 - $20 per person and individual dine-in meals average $15 per person plus tax and tip. No reservations are needed, but dine-in and to-go Easter meals are limited.
Lamberti's Ristorante & Wine Bar
7701 N MacArthur Blvd  |  972.506.3000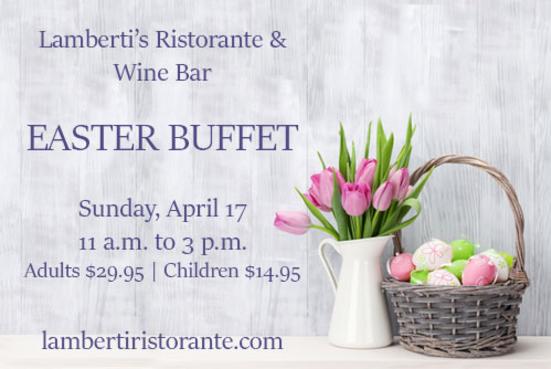 At Lamberti's Ristorante & Wine Bar, you can count on mouth-watering entrees such as sliced ham with Jezebel sweet horseradish sauce, bone-in ribeye roast with fresh garlic salted crust, chicken Parmesan, sausage and peppers, and lasagna. If I haven't caught your attention yet, try some shrimp Diavola, penne marinara or Alfredo mac-n-cheese, as well as sides and desserts. For a delizioso Easter buffet, bring your famiglia to Lamberti's between 11 a.m. and 3 p.m. on Easter Sunday. Reservations are preferred by calling 972.506.3000. Prices are $29.95 for adults and $14.95 for children, plus tax and tip.
LAW Restaurant
Four Seasons Resort and Club | 4150 N MacArthur Blvd | 972.717.2420  
This Easter, dress in your Sunday best and snap a photo with the Easter bunny before feasting on exquisite breakfast and brunch favorites. Begin with a made-to-order omelet station, eggs Benedict with lemon hollandaise, a sampling of local artisan cheeses, breads and cured meats from the Butcher and Fromagerie Shop. Or try the sushi, ceviche, oysters, Alaskan crab claws and more from the seafood station. LAW Restaurant also offers a carving station featuring beef shank pastrami, chipotle brulee salmon and pineapple-tequila glazed bone-in ham to pair with spinach ravioli or fried quail from the Pasta Bar. Savor specialty dishes crafted by Chef de Cuisine, Paolo Gama such as pan-seared striped bass, roasted spring vegetables and grilled chicken with asparagus, fennel and wax bean succotash, and garlic mashed potatoes. 
Be sure to save room for Executive Pastry Chef Yudith Bustos' eggs-cellent sweets and treats from the Lone Star Pastry Shop and freshly made-to-order Donut Wall with assorted seasonal toppings and sauces. Advance reservations are strongly encouraged and can be made by calling 972.717.2420.  Brunch is served at 10 a.m. to 3 p.m. Prices are $125 per adult and $55 per child under 12, plus tax and tip.
NYLO Las Colinas
1001 W Royal Ln  |  972.872.7001  
Join Chef Ashley at the NYLO Hotel for an Easter Brunch Buffet, including favorites such as the Waffle Bar, Omelet Station, ancho grilled lambchops, potato and kale hash, and much more. Other selections include the Bubble Bar with carafes available and their Dessert Bar. Brunch will be served on Easter Sunday at 10:30 a.m. - 2:30 p.m. Reservations are required by calling 972.872.7001. Prices are $35 for adults, $20 for children 12 - 16 (plus tax and tip) and children under 12 eat free.
The Ranch at Las Colinas
857 W John Carpenter Fwy  |  972.506.7262  
For a local twist on Easter Brunch, visit The Ranch at Las Colinas with friends and family, and enjoy a basketful of Texas favorites including a carving station, taco bar, dessert station, bloody mary bar and more! Because The Ranch is a farm to fork restaurant, you can be sure everything is fresh and locally sourced. Reserve your spot online or by calling 972.506.7262. Pricing includes $49.95 for adults, $19.95 for children ages 5 - 12 (plus tax and tip), and children 4 and under eat free.
Via Real
4020 N MacArthur Blvd  |  972.650.9001  
How can I eggs-plain the one-of-a-kind fine dining experience at Via Real? Their unique Southwestern cuisine caters to every-bunnies taste. Considered family and treated like royalty, guests are greeted with fine dining options and personal attention to detail. Their annual Easter Brunch Buffet includes favorites of locals, travelers and the Via Real staff, who are more than happy to recommend a treat for your taste buds.
Buffet items include eggs Benedict with pulled pork and queso sauce, crispy Applewood smoked bacon, biscuits and chorizo gravy, blueberry French toast, breakfast link sausage, smoked salmon-asparagus scrambled egg quesadilla, made-to-order omelets and waffles, and egg burritos. That's just the breakfast portion of the buffet. There are also salads, soups, side dishes, a carving station, desserts and a list of Via Real favorites. Reservations for seating at 10 a.m., 12 p.m. or 1:45 p.m. can be made by calling 972.650.9001. Prices include $60 for adults and $18 for children, plus tax and tip.
We Graze
Instagram: @WeGrazeDallas  
In the delectable world of charcuterie boards, We Graze Dallas is one of the best in Irving. Besides offering free delivery for purchases over $45, they use the freshest ingredients and highest quality artisan foods for an amazing display. This Easter, bring a We Graze charcuterie box as a hostess gift to snack on while you're waiting for the rolls to rise. Or supercharge your veggie and dip platter with a charcuterie gift box. Your family will love it! Visit their Instagram page for selections, then order online. Prices range from $15 to $195.
Whiskey Cake
7707 N MacArthur Blvd  |  469.941.2253  
You don't have to hop out of your car to pick up your Easter meal kit from Whiskey Cake. They take care of all the preparations for a delicious, yet home-cooked meal that comes with simple day-of heating instructions and deliver it right to your car. Each kit comes with your choice of certified Angus beef roast with creamed horseradish sauce or Duroc ham with spiced brown sugar glaze, sides, salad and rolls. Hold on to your bonnet, there's more. If you like Feaster extras, they offer roasted chicken, smoked gouda mac 'n cheese, baby roasted carrots with maple-miso glaze, pistachios and mint, garlic and Parmesan creamed Brussels sprouts, herb roasted fingerling potatoes and mushrooms, local rolls, whipped sorghum butter, and a whole or half Whiskey Cake, each for an additional cost.
Hurry and order today by calling 972.993.2253 or direct message them on Facebook or Instagram. The basic Easter dinner kits cost $115 (plus tax and tip) and will be available for pick-up on Friday, Apr. 15, and Saturday, Apr. 16. They feed approximately 4-6 people. 
MORE EASTER TREATS!
The City-wide Easter egg hunt is coming to an Irving Recreation Center near you. Take part in egg hunts for children ages 2 - 10, with tons of toy-filled and candy-filled eggs, arts and crafts, and entertainment. Bring a camera to take a free photo with the Easter Bunny. Each recreation center listed below will be hosting their own event on Saturday, April 9 from 10 a.m. - 12 p.m. The cost is free.

You didn't think we'd forget about your adorable fur-children did you? On Easter Sunday at 2 - 4 p.m., bring your pup to the Easter Bacon Hunt at Home Grown Hounds in Water Street. For a $10 donation per dog (or $15 for two), you can take photos with the Easter Bunny from 2 - 3 p.m. (reservations recommended), make Easter paw paintings, play the carrot toss game, and hunt for bacon on the grass lawn at 3 p.m. Prizes will be awarded too! Snag your ticket to get a spot.