Irving's past meets the needs of its future at the newly renovated Heritage Park in historic downtown Irving. There's something about nostalgia that attracts the young to learn and the old to remember. Heritage Park combines its nostalgic past while representing the future of urban family outings.  While the park highlights reminders of when Irving was just a combination of dots on a railroad map, it also offers a large gathering place for families, an entertainment venue for visitors, picnic benches near a food truck court, and a children's play area.  
Honoring the railroad's contribution to Irving's early roots, a rustic red caboose sits on display in front of an old train depot inside the park, just as it would have over 100 years ago. A reminder of days in a bygone era, this wooden caboose used to shelter crew at the end of the train so they could help with the track's switches, as well as keep an eye on the cargo and passengers from behind. Although the depot isn't original to Irving, it's a relic saved from destruction that closely resembles Irving's first train depot located near where the current DART station resides. Fares back then were about two cents a mile.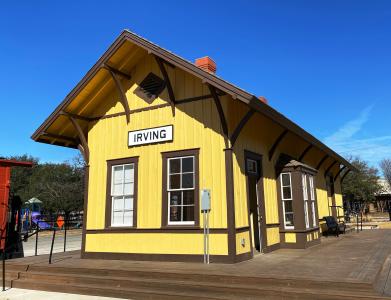 Left: Fort Worth & Denver Caboose No. 93, circa 1914. Right: Replica of original Chicago, Rock Island & Gulf Railway train depot, circa 1904

 

Also on display, not far from its previous home in downtown Irving, is the old water tower that sits as high as it did in the early 1920's. Back then, two local men were contracted to keep the tank filled during daylight hours to provide fresh water for the town.  This water tower, combined with local farmers' private water wells, were the city's main water source until 1924 when a new water plant was built.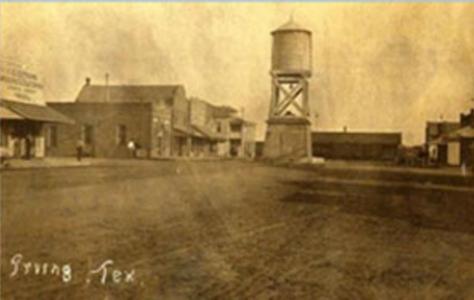 Left: Irving's original water tower today. Right: Same water tower in downtown Irving, circa 1920's    

Nearby sits the Caster Cab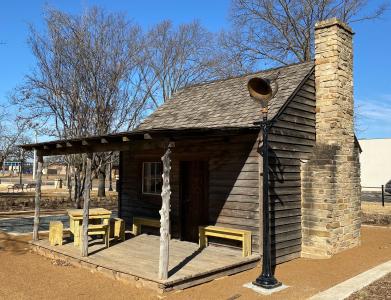 in, one of Irving's oldest homes. Built in 1887 as a "dog-run" cabin with two rooms and an open hall between them, the cabin had to be rebuilt after being damaged in a fire. After careful restoration by the Irving Heritage Society, using the original logs, it was moved to its new location at Heritage Park.
"This place is going to be so much more than a park; it's going to be a gathering space for families, an entertainment venue for visitors and a must-see destination the entire city should be proud of," said Irving Mayor Rick Stopfer.
Setting the vibe for the entire Irving Heritage District, which includes the historic downtown area and adjacent streets, Heritage Park's redeveloped space incorporates new features and technology, while maintaining the historic integrity of the older structures mentioned above. Families, locals and visitors are all excited about the park's convenient layout and endless possibilities for gatherings.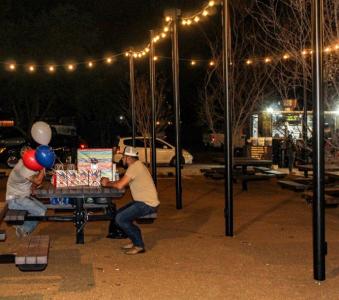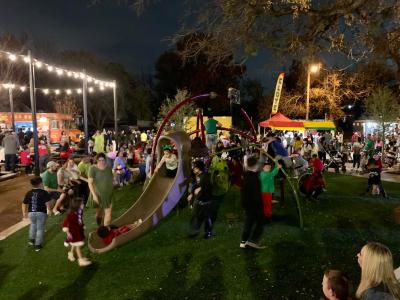 Left: Picnic area with an abundance of tables, food truck in background. Right: Children playing on playground at the Christmas 2021 celebration.

 

For example, an open air picnic area is conveniently situated near the playground and dedicated food truck plaza. Pack your own picnic or purchase something from one of the delicious food trucks who service this area. Also, there are several restaurants in the area that offer meals to go, so you can grab a bite and enjoy the sunshine or events while watching the kiddos play.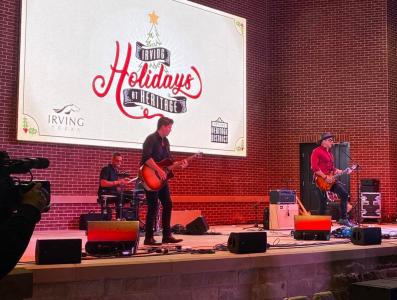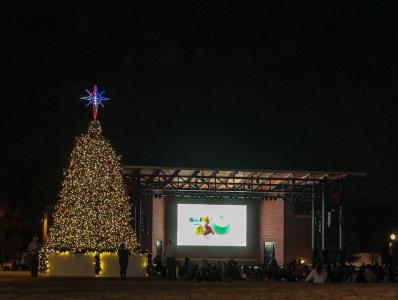 Left: Up close view of concert on stage with video screen in the back. Right: View of entire amphitheater and city's Christmas tree, December 2021.

 

Heritage Park's grand re-opening took place in December 2021 with Irving's annual holiday event, this year themed "Holidays at Heritage."  The celebration featured several artists performing on stage in the new amphitheater. In fact, several times throughout the year, the city holds concerts and festivals for everyone to enjoy. Bring your friends or family to the Heritage Park for a stroll, picnic or simply a local history lesson. If you're interested in upcoming events being held at the park, visit our events calendar at www.irvingtexas.com/events.

 
Heritage Park
217 S. Main St. 75060  |  (972) 721-2501