Texas may be known for ribeyes, tacos and BBQ joints, and in Irving, those culinary traditions don't disappoint. But in this city, rich with diversity and creativity, there are some sensational Japanese eateries where uber-fresh fish is the sought-after dish. Don't worry, we're not finding Nemo in the waterways of Las Colinas for your dining delight, but you might find Maki or Toro shipped straight from the ocean direct to your plate due to our landlocked locale in the Lone Star State. 
No matter if you're a sushi virgin or sushi connoisseur; whether you love traditional American sushi rolls or more authentic sashimi and nigiri ... you'll find fresh and delicious sushi, from time-honored classics to modern innovations in Irving. 
Before we get rolling, here's a little Sushi 101 for you first-timers.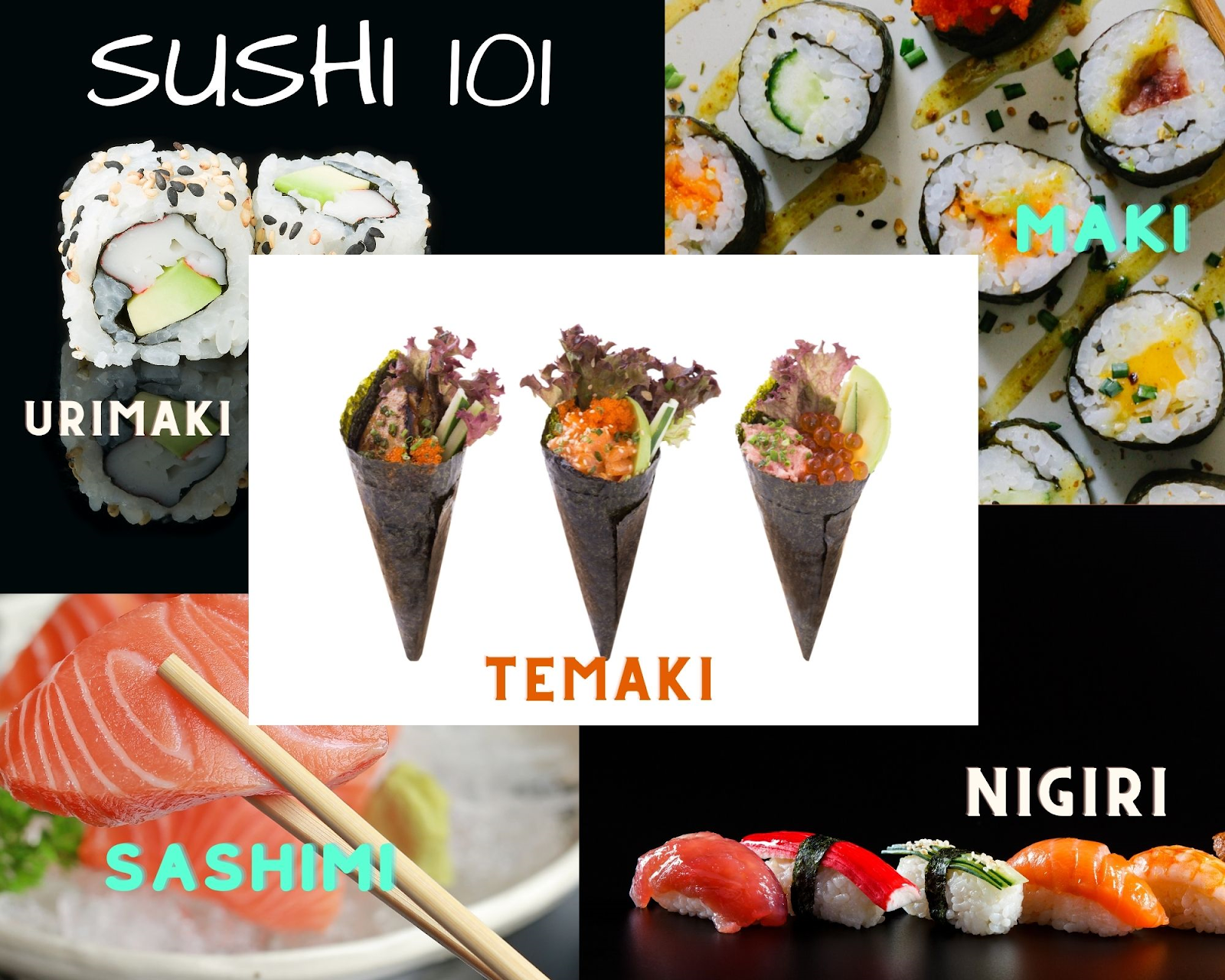 Maki is cut rolled sushi, traditionally made with a sheet of nori, wrapped around a layer of rice, vegetables, and fish, then rolled up using a special bamboo mat, and cut into 6-8 pieces. 

Urimake or an inside out roll has the rice on the outside and the seaweed wraps around the filling

Temaki aka Hand Roll is sushi that has been rolled into a cone shape

Nigiri is a style of sushi that is made by molding a ball of vinegared rice by hand and topping it with a slice of raw fish.

Sashimi is the same as the above without the rice. 
Here's a little fact you may not know:  Styles of sushi and its presentation vary widely, but the one key ingredient is "sushi rice." It's the vinegar-soaked rice that makes sushi, well, sushi. Traditional sushi features raw fish, but sushi doesn't have to include fish at all to be considered such! That said, sashimi is not actually sushi, because remember it's not technically sushi without the rice. 
And now, without further adieu, may I present Irving's sushi stars! 
Open to Rave Reviews: Edoko Omakase
1030 W. John Carpenter Fwy | 972.600.8626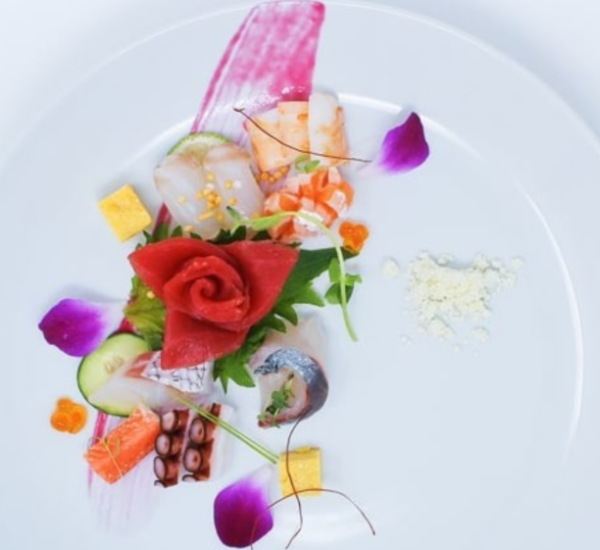 At this beloved Japanese and sushi stunner that premiered last March, you can order a la carte, but where's the fun in that? Well, actually the sushi tacos are fun and yum. But at Edoko Omakase, you should definitely kick things up a notch and ask for the restaurant's namesake, the Omakase tasting. If you're a newbie, authentic omakase is an "I will leave it to you" experience. Diners who order the omakase, or chef's choice menu, allow the chef to showcase various fish and seafood in the way they see it, allowing the culinary art of great sushi to shine. The tasting is a sensory-filled experience and can be likened to an artistic performance. Whimsical and mind-blowingly creative, Edoko chef Keunsik Lee takes the idea of traditional Japanese sushi and flips it on its head to invent original, almost too-pretty-to-eat creations ... and trust me, they will melt in your mouth. The chef serves his tasting in seven courses that includes, among other delightful dishes, a parade of nigiri and sashimi.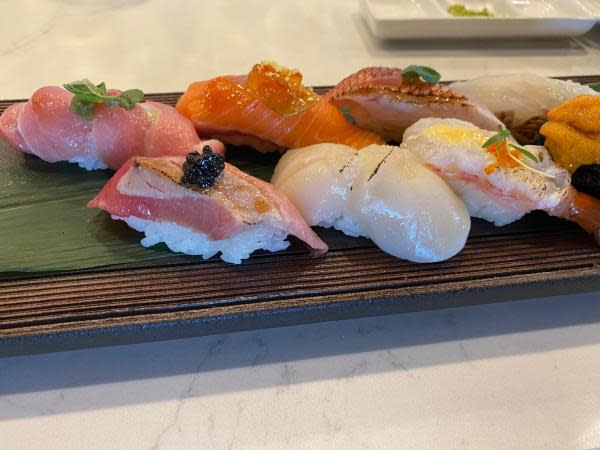 The unparalleled ingredients and skill of chef Lee make the $100 omakase experience more than worth it. Place your trust in the Chef and his team, and this will be a meal that can never be duplicated or forgotten. You might want to share a cup or glass of sake with the chefs as a thank you gesture. 
How to roll at Edoko: Roll with the chef
Cultural Immersion: Mr. Max Nippon Cafe
3028 N Belt Line Rd | 972.255.8889
A strip mall along Irving's famous Belt Line Rd doesn't deter sushi lovers from flocking to this not-so-hidden gem for tried and true, high-quality, traditional Japanese cuisine. Mr. Max is a cozy, unpretentious, and authentic eatery and is considered a Japanese izakaya - a tavern with lots of small plates or tapas. You can choose to sit at the bar, but for the full Japanese immersive experience, you'll want to slip off your shoes and sit at a low table. That said, make sure to get a pedicure before you go, don't wear stinky shoes or a short skirt and use the restroom before you're seated. 
The sushi and sashimi are impeccably fresh. Besides the requisite raw fish, this charming sushi spot also offers lots of appetizers for tasting, hence the classification as an izakaya; karaage (fried chicken); ramen and so much more. Mr. Max is rumored to have the best takoyaki in the entire metroplex. Takoyaki is a popular street food in Japan that consists of battered and fried octopus topped with bonito flakes - octopus balls! Let me know how those are.
How to roll at Mr. Max: Make reservations! The cozy ambiance is in part attributed to the tiny space with just 30 seats. That said, book your spot well in advance. Call 972-255-2969 anytime after 5 pm to place your reservation, then book your pedicure and you'll be ready to roll. 
 
Maki you Soy Happy: Midori Sushi
4020 N MacArthur Blvd | 972.887.1818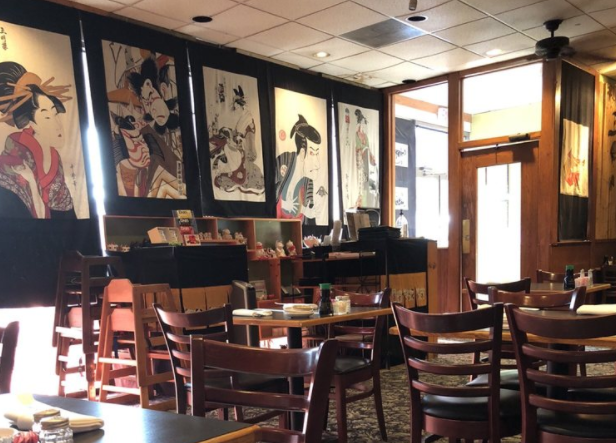 Much like Mr. Max, Midori Sushi is known for serving authentic and pure Japanese dishes at very affordable prices. You can order a Baby Lobster Hand Roll for only $6.50 - a decadent and delicious baby bargain. Since 1999, hundreds of thousands of locals have frequented Midori to enjoy both their traditional dishes and creative Asian fusion. You can dine in the main dining room … or traditional Japanese dining sans shoes is offered for larger parties in the private dining room. 
The oh-so-popular lunch buffet has been discontinued, but the lunch crowd still comes for the Bento Box that includes sushi and a lovely assortment of other Japanese favorites. With a location adjacent to the Four Seasons Resort, it's not unusual to see a musician, sports icon or celebrity from the hotel trying to fly under the radar amongst the dinner crowd at this beloved sushi spot. Byron Nelson Champion, Sang-Moon Bae is good friends with the owner and frequents Midori's year-round.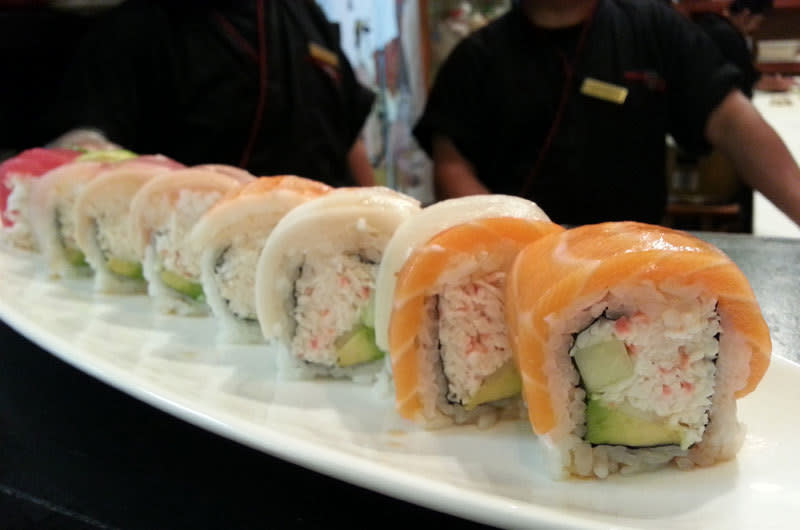 As for the chef, his sushi game is strong. And, well, he dishes out some rather unique specials with a side of humor like the Jewish Roll with salmon, cream cheese and onions … and the Viagra Roll. The menu reads, "Tuna, freshwater eel, avocado and crab...It works!" I'd be curious to know which celebrities order that one. Tee hee.  
How to roll at Midori: Roll with the Bento Box at lunch, and watch out for the Chef specials!
Swanky & Saucy: Little Katana
 6420 N MacArthur Blvd | 972.362-0888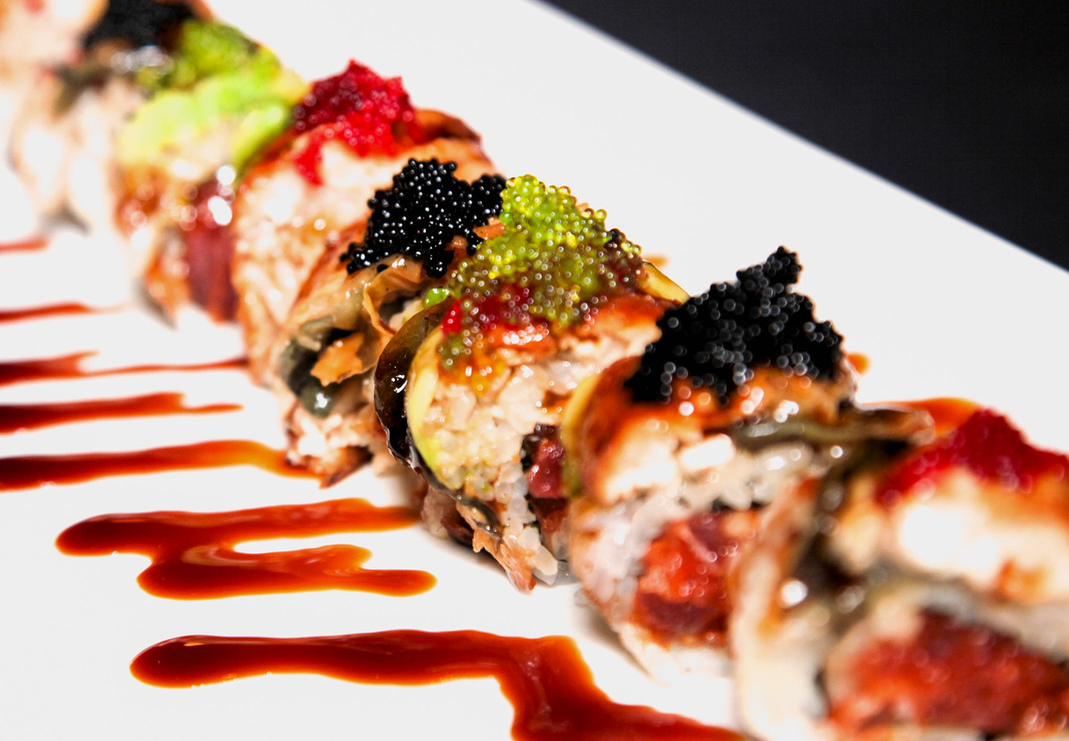 Sushi can be simple or elaborate, and yes, there is a difference between Japanese-style sushi and Western-style sushi. Both are delicious in their own way. While traditional Japanese sushi is simpler, less dressed up, and focused on the fish, its American counterpart is more focused on rolls, topped with plenty of garnishes and sauces. Little Katana has both simple sushi rolls and lots of saucy options too. And if you're not too sure how you feel about raw fish, they offer several vegetarian rolls. 
For those who love raw fishies a little bit saucy, the Sashimi Salad is the way to go - gorgeous slices of fresh salmon, tuna, and yellowtail on a bed of fresh spring greens, thinly sliced cucumbers, and creamy avocado and dripped with their special spicy ponzu sauce. 
.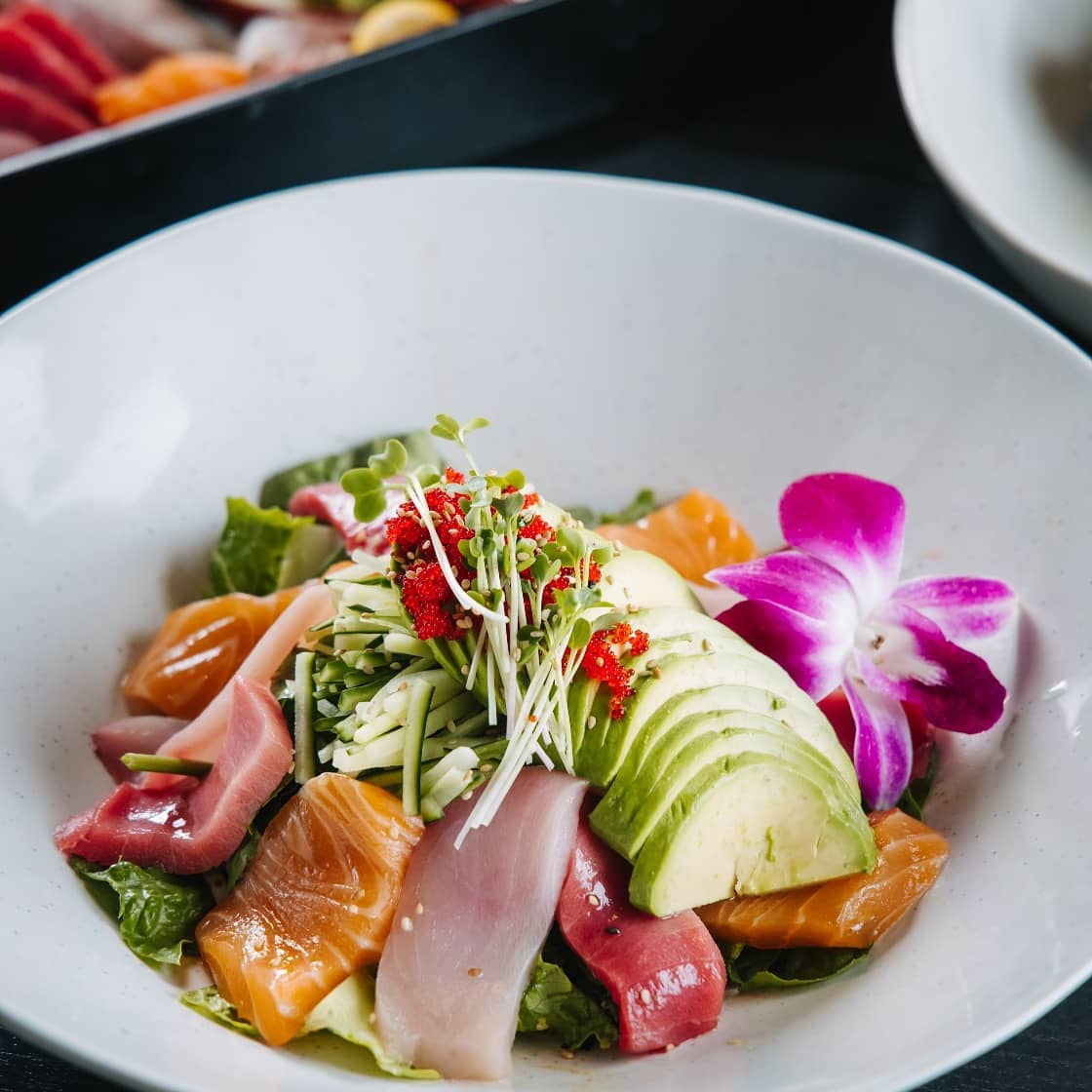 How to Roll at Little Katana: Visit Irving blogger Carol Stoddard rolls with the Crispy Brussel Sprouts and The Papa Roll ... and she suggests that you call to check out the nights when they have half-priced bottles of wine or sake.
DFW Fan Favorite: The Blue Fish Signature Japanese Bistro
Toyota Music Factory | 320 W Las Colinas Blvd | 469.482.3474
 

Headquartered in Irving, with 11 restaurants in Texas and others rapidly popping up around the country, The Blue Fish is widely known for its fresh sushi, sashimi and rolls. A longtime DFW sushi staple, fans of The Blue Fish will find all their favorite menu items at the Toyota Music Factory location. In addition to omakase, sushi, sashimi and rolls, you can indulge in an array of Asian-inspired hot dishes, salads, artisan desserts, uniquely crafted cocktails and a wide selection of wine, sake and beer.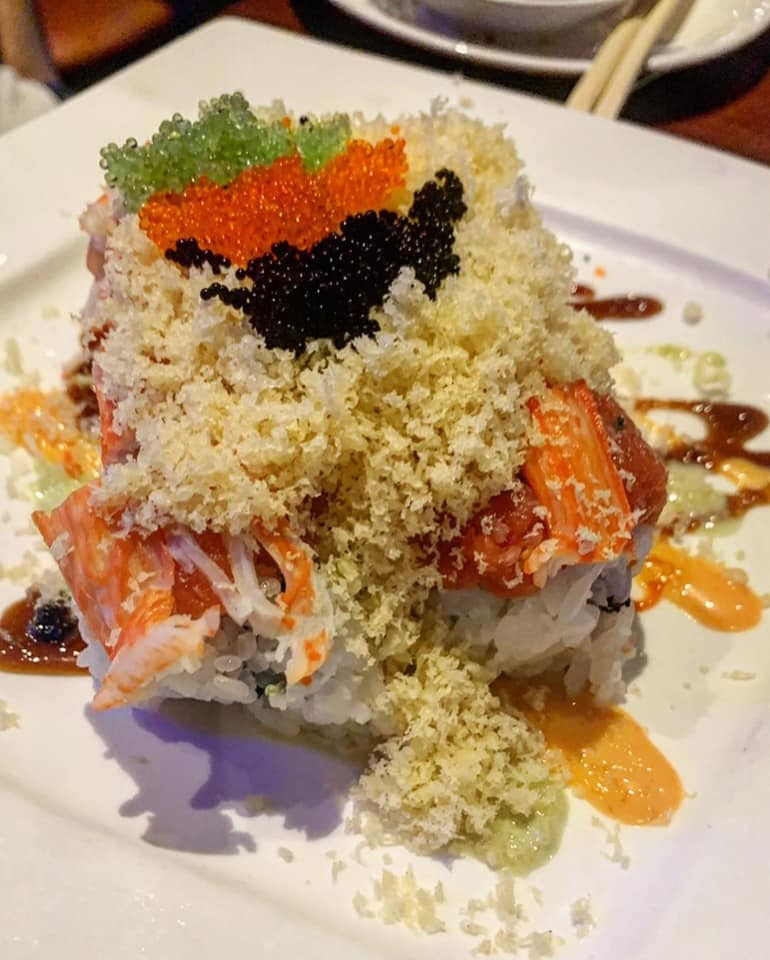 How to Roll at The Blue Fish: Rumor has it that The Blue Fish is the home of the Original Ahi Tower. Roll with it. 
 
Seafood, Sushi & Sunshine:  Pacific Table
Water Street | 5238 N O'Connor Blvd | 972.957.7620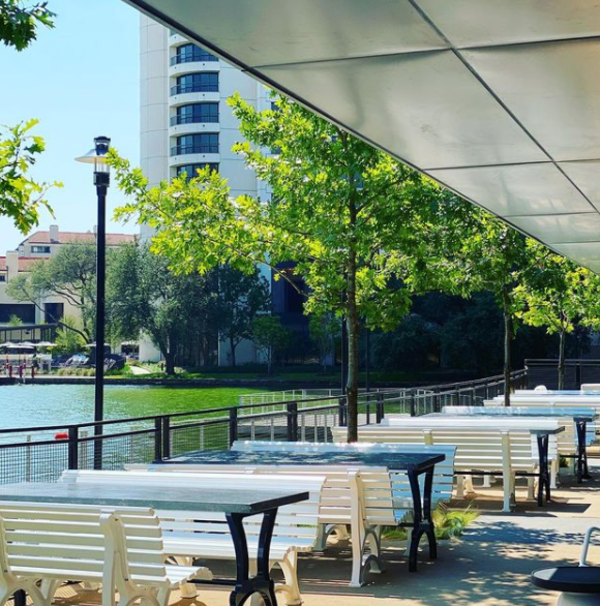 Pacific Table is not actually a sushi joint. It is a seafood & steak place with a modern vibe. But sushi is on the menu, and since the resto opened, Chef Felipe Armenta has been making waves on Lake Carolyn at this swanky waterfront spot. His menu is inspired by the fresh fish from the Pacific Northwest, a unique twist for Texas. I'm talking oysters – fried or on the half shell, Cedar Plank Salmon, Cioppino… and a nice selection of darn delicious sushi rolls and nigiri! You know what else you can get at Pacific Table? A side of sunshine. Pacific Table is in Irving's Water Street district and features majestic views of Lake Carolyn. Snag a table on the patio if the weather allows and enjoy the big Texas sky while you sip on refreshing cocktails, wine, beer, ciders or sake and delight in the flavorful, fresh and inventive sushi rolls.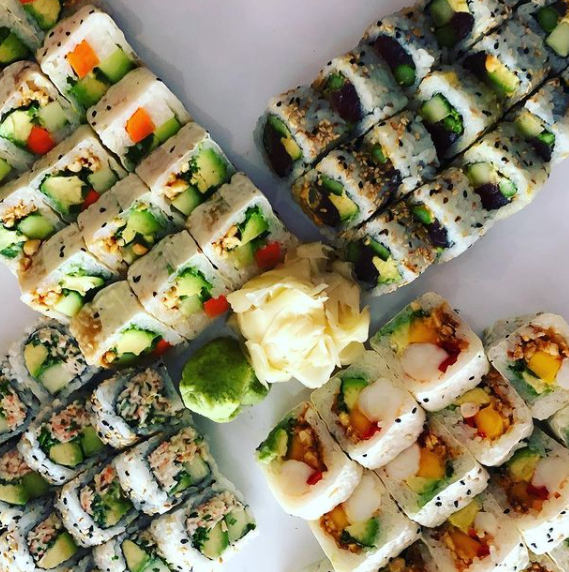 How to roll at Pacific Table: Roll on out to the patio and order the Shrimp Mango Roll. You'll love the combination of tasty shrimp, sweet mango, crunchy Marcona almonds and spicy mayo with a side of fresh air.