Allow me to introduce you to the stories behind many of our attractions and historic areas here in Irving, Texas. This week we'll look at DFW International Airport and its interesting history. After the story, you can have fun with the Founders Plaza Jigsaw Puzzle. Simply click on the image down below. Now let's get started! 
It helps to realize how far Irving has grown as a major city in the Metroplex when we first remember that not too long ago it was once a patchwork of pastures, prairies and small towns. And although Irving had relied heavily on the railroad as its main transportation throughout those towns, a new invention was just around the corner - the airplane. 
Dallas built its airport first in 1917, called Love Field and Fort Worth's Municipal Airport was built in 1925 (now called Meachum International Airport).  By the 1950's, people were flying from Fort Worth to Dallas and back on a daily basis.
In fact, if you watch documentaries about President Kennedy in 1963, he had flown from Fort Worth (Carswell AFB) to Dallas and then traveled in a convertible through downtown. It sounds silly today to fly when we can just hop in our cars and drive down the freeway. But back then, Hwy. 183 (Airport Freeway) had only two lanes. Can you imagine?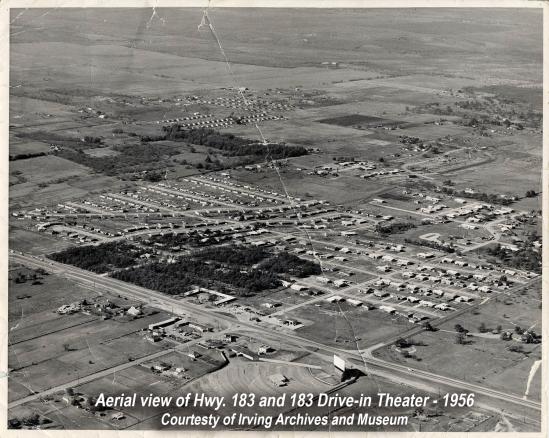 As far back as the 1930's, the cities of Dallas and Fort Worth discussed building a huge airport somewhere in the middle that could serve both cities. With that in mind, a small airport was built during WWII in the 1940's very close to where DFW Airport is now, only it was being used for military planes. Then in the 1950's, the city of Fort Worth changed the airport's name to Amon Carter Field, after Fort Worth's mayor at the time. This is the same Amon Carter after whom the art museum in Fort Worth is named.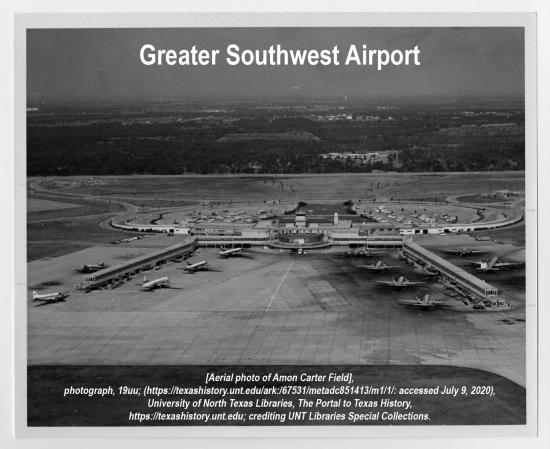 In the 1960's, Amon Carter Field changed its name to Greater Southwest International Airport, trying to attract passengers to their airport instead of Love Field in Dallas. Even so, both Dallas and Fort Worth knew eventually their airports would run out of room. Yet they still couldn't agree on where to build a new airport.
All of this time, the answer was right before their eyes. In 1973, Dallas and Fort Worth built a new airport just a little northeast of Greater Southwest Airport, and they called it DFW Regional Airport. Then in 1985, the new airport changed its name to DFW International Airport because planes were flying all over the world by then.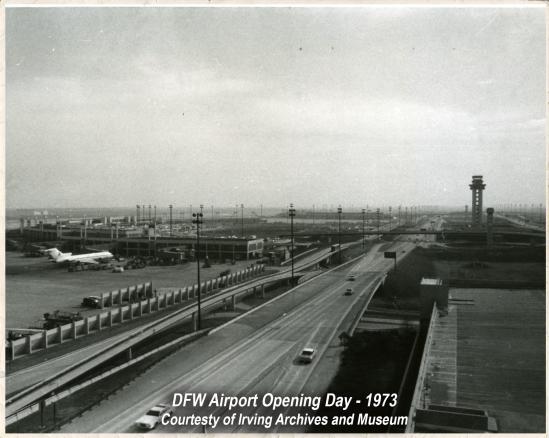 Really cool facts you probably didn't know about DFW International Airport:
When excavation for the airport began, workers uncovered the bones of a 70-million-year-old Plesiosaur.  The bones were originally on display at the Braniff terminal, and today they're stored at the Shuler Museum of Paleontology at SMU.
The airport stretches across 17,000 acres (more than 27 square miles) and is larger than the island of Manhattan. Hey, go big or go home.
The airport took five years to construct at a cost of $700 million.
In 2018, the airport opened an emergency room, becoming the first airport to do so anywhere in the world.
To keep flocks of birds from flying into airplanes, the airport's wildlife administrator decided to remove the plants and seeds that the birds were eating. That reduced the number of bird strikes significantly.
There is a state-of-the-art Fire Training Research Center at the airport and during training periods, you might see black smoke as a result of the training fires. Don't worry, they're really good at putting out fires.
Not only does the airport have its own firefighters, it also has a police force, and a jail.
A fun place to visit is Founders Plaza, an observation area with magnificent views of the aircraft as they take off and land at the airport. There are picnic tables, telescopes, historic information, sculptures, a commemorative monument and a radio that broadcasts air traffic control communications from the FAA tower. It's open daily from 7:00 a.m. to 7:00 p.m.
Here's a fun list of things you can explore in Irving if you're on a layover.
Now that you know a little more about Irving and the history of DFW International Airport, try to solve this jigsaw puzzle of the sculptures at Founders Plaza. Simply click on the image below.  Good luck!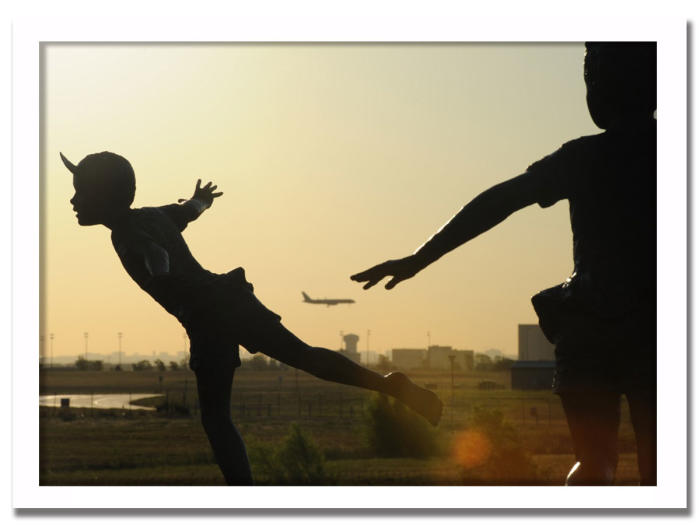 Answers to previous activity page:

Balloon
Baseball
Butterfly
Mustang
Popcicle
Snowcone
Sunglasses
Swimming Pool
Previous activity pages: