Allow me to introduce you to the stories behind many of our attractions and historic areas here in Irving, Texas. This week we'll look at an Irving attraction located in the heart of our Heritage District – the Whistle Stop Plaza and Clock Tower.  After the story, you can have fun with the Clock Tower activity and coloring page. Simply click on the page below to print it out. Now let's get started!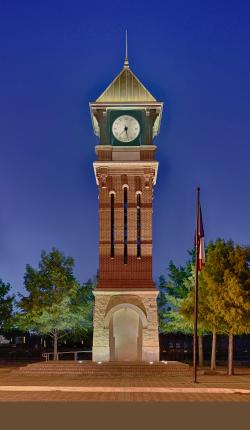 Last week we learned how Julius Schulze and Otis Brown bought some land and turned it into a town by selling the land in small sections, called lots. I hope you had fun putting the puzzle together of the Lot Sale. That original sale actually took place on the same ground where the Whistlestop Plaza Clock Tower sits today. 
Back in 1999, the Irving Heritage Society and the city's Preservation and Redevelopment Board decided they wanted everyone to remember where and how Irving began. Since the original train depot was now gone, the clock tower was built in its place.  It stands 70 feet tall and faces exactly North, South, East, and West.
You may have seen this clock tower downtown, but did you know each side of the clock has either a name or date carved below it? The North and South sides say "Irving," the East side says "1903" and the West side says "1999." 
Why do you think the year 1903 is carved on one side? If you answered that was the year the Lot Sale took place, you'd be correct.  Why do you think they call it the Whistlestop Plaza - the area where the Clock Tower sits? Of course! Because you can hear the train whistle before it stops.
Irving's Clock Tower has many other unique features. Can you find 10 differences between these two drawings? 
Click here to download the activity page for printing.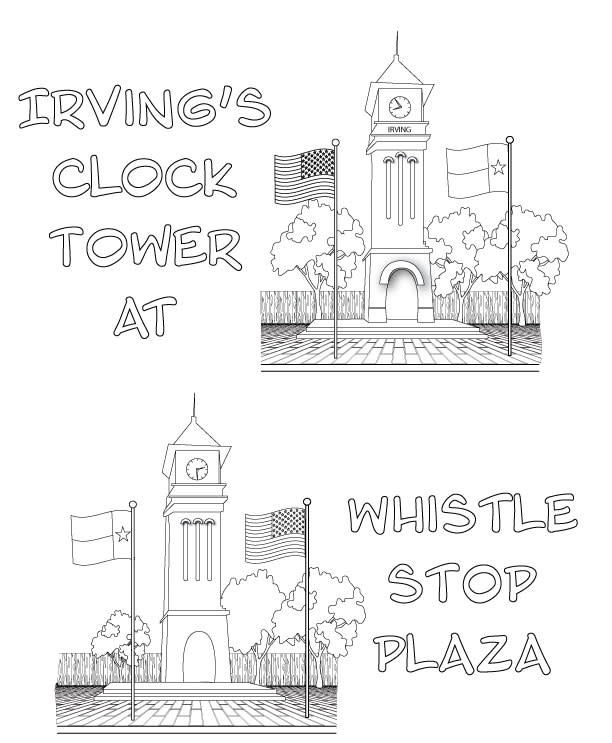 Previous activity pages