We're dedicating this #ThrowbackThursday to a little known piece of history called the Ruth Paine House Museum. Some of you may have been living in Irving on November 22, 1963 and can remember one of the most tragic and talked about events in American history. Or you may not recognize the importance of that date.  Everyone, however, is familiar with President John F. Kennedy, who on that fateful day was assassinated in Dallas while riding in a motorcade. Our part of the story begins like this . . . 
       Although the facts about the JFK assassination can be found through many sources - books, movies, newscasts, the Warren Commission Report and the Zapruder film, for example - interestingly, there is a woman who lived in Irving that can give you a firsthand account of the story. It's a side you possibly haven't heard. She was a young mother, recently separated from her husband, and trying to raise two children on her own. Her name is Ruth Paine, and this story is told in her words.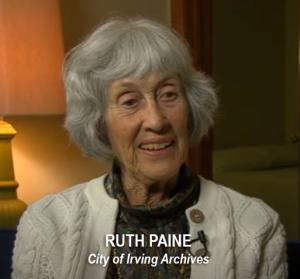 So you may know a little background information, Ruth and her husband, Michael Paine, worshiped in the Quaker faith when they lived in Philadelphia. During this time, her heart grasped the idea that to effectively bridge the gap between Americans and Russians during the Cold War, she must first learn to speak Russian, which she did. In the meantime, they moved to Irving because Michael accepted a position with Bell Helicopter, located in nearby Hurst.
       As it happens, Ruth and Michael split up and she found herself raising two young children by herself, a monumental task that can often be isolating. A little while later she was invited to a party, and there she met a woman who didn't speak English. And then she met the woman's husband, Lee Harvey Oswald.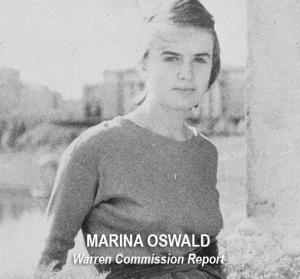 Delighted that Marina Oswald spoke fluent Russian, and that she also had a small child, Ruth immediately formed a strong bond of friendship with her. A little while later in May 1963, Ruth learned that Lee planned to send Marina back to Russia while he looked for work. Thoughtfully, Ruth offered Marina the opportunity to stay in Irving and live with her. Marina, now expecting their second child, was delighted. Eventually Lee acquiesced.
       During this time there was a period where the Oswald's moved to New Orleans, but by September 1963, Lee lost his job and Marina moved back in with Ruth again, while Lee eventually moved back to Dallas. Both mothers' lives revolved around raising their children and the daily chores that came with an early 1960's lifestyle. Ruth was completely unaware that Lee had already attempted (unsuccessfully thank goodness) to murder Major General Edwin Walker at his home in Dallas just the month prior.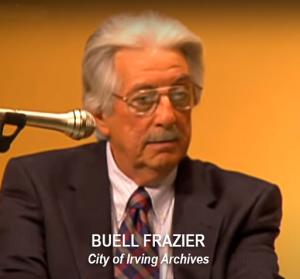 Later, Lee found work with Ruth's 19-year old neighbor, Buell Frazier, at the Texas Schoolbook Depository in downtown Dallas. Too poor to afford a telephone, let alone a car, Lee stayed in Dallas at a boarding house near his job during the week and on Fridays, he rode home with Buell to spend the weekends with his wife, Marina, and their daughter, June. Then on Mondays, he would catch a ride back to work. This arrangement went on successfully for several weeks. Concerned that he would miss the birth of their second child, Lee jotted down a telephone number and gave it to Ruth explaining that's where he could be reached when Marina went into labor.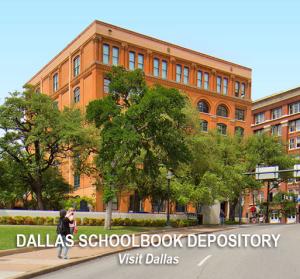 In October, Marina delivered their 2nd daughter, Rachael. It was on a Sunday and Lee was already at the house, so they never needed to call the telephone number. In fact, Lee stayed at the house and babysat the children while Ruth drove Marina to Parkland Hospital. And still, no one suspected what tragedies would unfold over the next few weeks.
       All this time, Marina still could not speak or understand English very well and was totally dependent on Lee and her friend, Ruth, both of whom spoke fluent Russian. About a month went by when Marina was missing Lee and asked Ruth to call him at the phone number he had given them. That was on Monday, November 18. When a woman answered, Ruth asked for Lee but was told there was no Lee Oswald at that number. Writing it off to the number being mistakenly written down wrong, they thought nothing of it. Later that evening, Lee called the house and when Marina asked about the number, Lee became furious! He explained he was living under an assumed name and she should never call that number. A heated argument ensued and then both hung up. Ruth explains that this is really the first time she felt anything was "off" with Lee.
       Later that week on Thursday, Ruth came home from the grocery store and found Lee playing with little June in her front yard. Immediately she questioned why he came out on a Thursday instead of a Friday. Calmly, Lee explained that he was coming to Irving to purchase curtain rods for his rented room in Dallas. And that was that.
       The next morning while Buell Frazier was sitting at his breakfast table, Lee walked over and peered in his window. Startled, he told Lee he would've picked him up at Ruth's house like he'd always done before. But Lee had this long package with these curtain rods, you see, that he needed to take to work for his room there in Dallas.  In fact, Lee had already placed the package in Buell's back seat. Back then people rarely locked their cars. And off to work they went.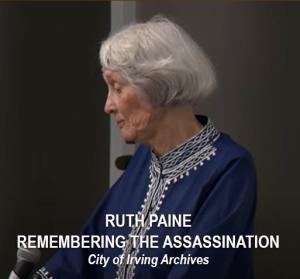 That morning, Ruth and Marina, excited that the President would be in town, decided to turn on the television set.  It's at this point that Ruth, in telling the story, stops and takes a deep breath. Over 50 years have passed, and this kind and gentle woman still grieves about watching on the news that the President had been shot. The look on her face, remembering first-hand this horrible tragedy that unfolded in front of her and affected those she loved, echoes the grief of the entire nation, even today.
       Ruth and Marina lit a candle for the President after hearing the news that he had passed. It was about mid-afternoon and Ruth was in the backyard hanging up laundry when police officers knocked on Ruth's door. They abruptly explained that Lee had been arrested for shooting a police officer in Dallas. That was a complete shock to Ruth, but what was about to be revealed paled in comparison.  The police continued with their questions asking Ruth if Lee owned a rifle, to which she honestly answered no. She'd never seen one.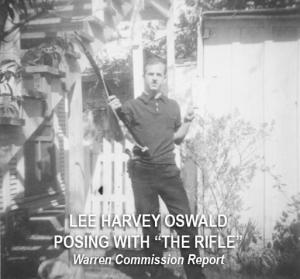 She never knew that Lee had ordered a 6.5 mm caliber Carcano rifle by mail, which he hid in her garage. She didn't hear him leave the house that morning before she arose. She didn't know that Oswald had wrapped up the rifle and placed it in the backseat of her neighbor's car. And she also didn't know that Lee took off his wedding ring that morning and left it with some money on the dresser for Marina. All of these facts would become widely known in the months to come, but Ruth was still trying to piece together why they were asking her these questions. Ruth translated to Marina the officers' questions and immediately Marina led them out to the garage and opened up the now empty blanket where the rifle had been hidden. She knew the rifle was there, but how on earth could she have known what he planned to do with it?
       It was then that Ruth feared the worse, and she cooperated fully with the officers. Upon arriving at the police station, she knew immediately that she and Marina were unknown to these people, and the spotlight was on them. They both endured hours of questioning. By this time, Lee's mother arrived at the station from her home in Fort Worth. After their time in the hot seat, Ruth, Marina and Lee's mother, Marguerite Oswald, left to return to Ruth's house in Irving.
       Unknown to Ruth,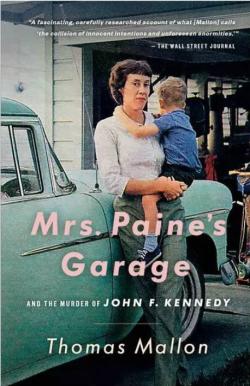 Marguerite Oswald had called the Fort Worth Star Telegram and asked them for a ride to Dallas, explaining who she was. The reporter who taxied her to the courthouse was none other than Bob Schieffer.  Since Marguerite had no transportation back to Fort Worth, Ruth honored her request that she stay at Ruth's house in Irving with Marina and Marguerite's two grandchildren. Unfortunately, Ruth recalls, Marguerite also invited two people from Life Magazine out to her house and that's how they all ended up in Thomas Mallon's book "Mrs. Paine's Garage," with pictures captured by the Life Magazine photographer.
       The next morning, investigators accompanied Marina, her children and Marguerite Oswald to Dallas for further questioning, and Ruth never saw Marina again. Ruth and Marina attempted to reunite the next Fall in 1964, but Ruth explains the pain was still too horrific, and they lost touch afterward. Marina went on to remarry and changed her and her children's last name. Ruth lived in the house several more years until their divorce became final, then she moved out of Texas.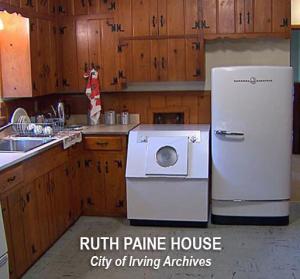 As an integral part of the story and a living piece of history, the Ruth Paine House solemnly sits on a quiet suburban street in Irving. Only now it's been preserved by the City and turned into a museum. Visiting the house is like opening the door to a time machine. Through the generous cooperation of Ruth Paine, the use of Paine family photos, Warren Commission photos and other available material, the City has painstakingly recreated the furniture and fixtures throughout to replicate what the house looked like in 1963, right down to special-ordering the 50's patterned curtains. It contains excellent background information as one of the many JFK-related sites in the Dallas/Fort Worth area.
       In addition to the furnishings, the story of the events that unfolded there is told through projected vignettes in which actors play the roles of Ruth and Michael Paine, and Marina and Lee Harvey Oswald. Through words from the historical record, the actors bring the story to life.
       Although the Ruth Paine House Museum is currently closed due to the pandemic, it should be put on your list of places to visit as soon as possible. There is so much more to this story that can be found at the museum. It allows you a glimpse into the everyday lives of Lee and Marina Oswald during the months leading up to the assassination. 
To hear Ruth tell more of her story, watch these intriguing videos below. 
---
Click here for answers to the Hidden Music Puzzle Page from the previous #ThrowbackThursday.
Previous #ThrowbackThursday blogs: