It's pool season, and there are plenty of options available to Irving residents that offer fun features and amenities for the whole family to enjoy. Be sure to check the facilities' websites for fees and guidelines before your visit. 
Cimarron Family Aquatic Center
199 Red River Trail, Irving, TX 75063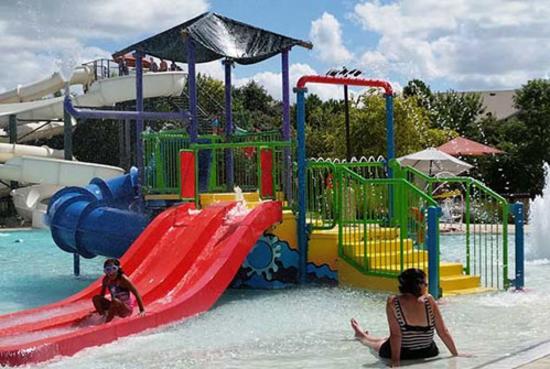 With a full water playground, splash pool for the littles, water slides and waterfall, this park is a day of fun just waiting to happen. 
Hours: Thursday 5:30-9:30 p.m., Friday-Saturday 1-7 p.m.
West Irving Aquatic Center 
3701 Conflans Rd, Irving, TX 75061
Open now through Labor Day, enjoy multiple pools, a water playground and a rock-climbing wall at this aquatic center. Coolers are allowed outside and food is available for purchase at the concession stands. 
Hours: Friday-Sunday 1-7 p.m. 
Heritage Aquatic Center 
200 S. Jefferson St., Irving, TX 75060
Get the best of both worlds at this year-round indoor facility featuring a temperate-controlled 20-yard lap pool and a 12-person spa. The pool is kept around 84 degrees, and the spa is maintained at 96-100 degrees. 
Hours: Monday & Wednesday 7:30 a.m.-12 p.m., Tuesday 5-8:30 p.m. 
Senter Park Pool 
901 Senter Rd, Irving, TX 75060
Enjoy a full day of outdoor fun at Senter Park. Visit the outdoor pool for a relaxing afternoon swim. Picnic in the park, play on the playground, then go for a stroll before calling it a fun-filled day. 
Hours: Tuesday-Thursday 1-7 p.m. 
North Lake Natatorium 
5001 N MacArthur Blvd, Irving, TX 75038
Swim in the only Olympic-sized pool in Irving. This 50-meter indoor pool is open year-round and offers Learn-to-Swim classes all summer long. Learn more about the program and sign up for a class today!
Hours: Monday-Wednesday 7 a.m.-12 p.m. and 5-9 p.m.  
Click here for the full Irving Aquatics summer schedule!