Restaurant patios are without a doubt the place to be this summer. They're certainly safer than indoor dining options, and with a couple of strategically placed umbrellas – one overhead and one in your drink – you'll soon forget all about the Texas heat. In the first #FoodieFriday outdoor dining edition, we visited patios all around town for celebrating oh-so worthy occasions like Taco Tuesday and small victories like a good hair day. We discovered swanky spots, quaint and cheery spaces and patios perfect for chillaxin' or mixing & mingling with insta-worth fashionistas and more. 
This week, we'll patio hop around Water Street. One of Irving's trendy new hot spots, Water Street is in the heart of Las Colinas just across the street from Irving's famous Mustangs and on the scenic shores of Lake Carolyn. Water Street's many eateries offer patios that are lusciously landscaped, bejeweled with twinkling lights, comfy and cozy or large and luxurious, some with charming streetscapes, others with fountain views and waterfront vistas. 
El Famoso, Olivella's, Hugos Invitados, Pax & Beneficia, Pacific Table, Cork & Pig, Creamistry, and Homegrown Hounds. Let the parade of patios begin! 
EL FAMOSO
Sunday Funday's better than Monday
Sunday Funday means different things to different peeps. But there's one thing we know for sure. Sunday Funday is always on a Sunday. For most, it's a day dedicated to having fun in hopes of providing that extra dose of happiness needed to face the inevitable arrival of Monday. For some, that extra dose of happiness comes in the form of libations. Usually, mimosas. And food. Good brunchy food. Typically, you start Sunday Funday early... so you can end early. As a matter of fact, going to bed at or before 9 p.m. is part of the plan. Unless, of course, you're in your 20's or 30's. Then you start early and go late, and Monday is definitely NOT a fun day. 
No matter how you define it, fun on a Sunday is guaranteed at Water Street. At El Famoso, you can start and end with $2 tacos and stay ALL DAY for happy hour.  
But wait, there's more!  Say hello to the weekend early with a Friday brunch offered through Sunday from 11:30 am to 3 pm. Live large between 4 and 6 p.m., Tuesday through Friday, and stay til close for happy hour margaritas on Taco Tuesday. That's a drink special for almost every day of the week. Better pace yourself. 
HOMEGROUND HOUNDS
All paws on deck 
Even your pawsome pups can partake in the Sunday party! Homegrown Hounds hosts themed Sunday Funday events for your fur-babies every week on Sunday, 2 pm to 4 pm. Check their instagram page for info about the paw-tys and yappy hours, but you better be prepared to fall into some serious puppy love with these quarantine cuties.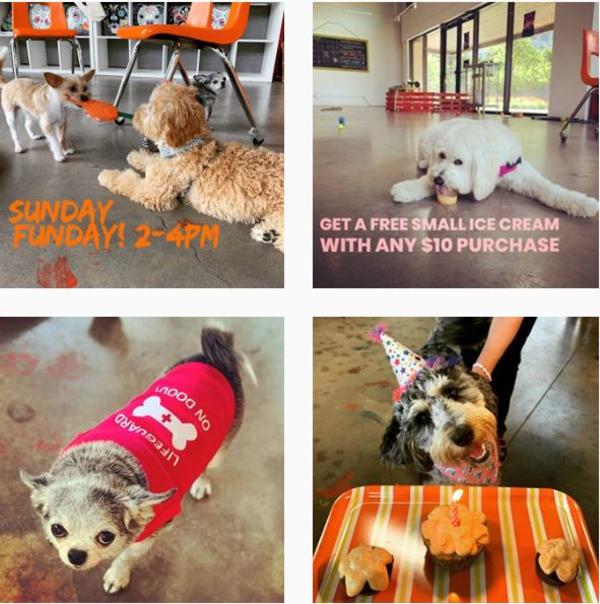 Strut your mutt
Hope to see you and yours next weekend at Homeground Hound's Pride pooch parade!
PAX & BENEFICIA
Cultivating craftsmanship, camaraderie, and contribution through coffee are the core principles at this hip & trendy coffee shop founded by two friends with a penchant for coffee.
Bring Fido
And enjoy a cup of joe on the patio! Make it a Tuesday and 5% of all profits will be designated for a contribution to a pre-determined charitable organization. 
Get a Buzz steeped in Tradition
Pax & Beneficia's Turkish coffee is steeped in both tradition and flavor and will get you buzzing with its concentrated caffeine levels and the energy boost they provide. The coffee service presentation is lovely and perfect for you to savor solo. But you might just adopt the Turkish cultural belief that the art of drinking Turkish coffee is just as much about the conversation as it is about the drink. Cultivate camaraderie by bringing a friend or by making new ones. Just make sure there are six degrees of separation. 
Curb your enthusiasm 
On second thought, don't. Pretty coffee, pretty view, pretty girl. Okay, so she's not technically sitting on the patio, but the coffee makes her so happy that I felt compelled to share. She's giddy about the Pax & Beneficia's craftsmanship, perfection in a cup that has been meticulously measured, brewed, and poured to the highest standards.
CREAMISTRY
The sweet spot of patios
Creamistry is the hot spot to cool off with a frozen custom concoction.
I scream, you scream, we all scream for ice cream. 
And guess who's welcome to wag along! 
Let your imagination run wild.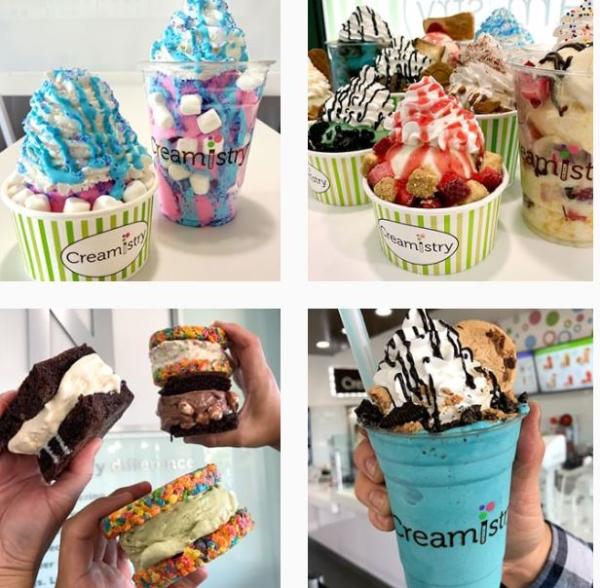 HUGO'S INVITADOS
Beat the Heat
Hugo's Invitados has perfect patio to beat the heat and treat yourself to fancy schmancy cocktails ( that are actually healthy, but don't be fooled...they are DE-LISH!)
Drink the drink
CORK & PIG TAVERN
Brunch is always a good idea
At Cork & Pig Tavern, they're serving up brunch with a side of delicious view and vibes.
A Yabba-Dabba-Doo Good Time
Even the kiddos love brunch at Cork & Pig. It's the weekend! Treat the little ones to fruity pebbles french toast. 
OLIVELLA'S
Table for One
 Olivella's has a great patio to take yourself on a date! Sip some wine, relax and enjoy the soothing sights and sounds of the water.
PACIFIC TABLE
Romance in the air
Pacific Table has a patio with waterfront views as delicious as the cuisine they serve. And the serene and stylish ambiance sets the mood for a dreamy dinner. This newcomer is definitely a contender for the most romantic patio in town.  You'll love it, and so will your love.
Water Street's brunchy, boozy, buzzy, romantic, kid-friendly, fido-friendly, charming, cheerful patios are perfect for happiest hours, sweet treats, dog treats, java, brunch, lunch, dinner and drinks, date night, girls night, family night, pooch paw-tys, camaraderie, creamistry, Sunday Funday, Taco Tuesday, Wine Down Wednesday, good hair days, bad hair days, patio dresses, yoga pants, strolling, running, meditating, loving, laughing, and darn delicious food. Whatever your heart desires, you can have some fun under the sun and dance in the moonlight at Water Street. 
Please note, Gingerman is currently closed per the most recent ordinance pertaining to bars. We've been keeping a running list of the restaurants that are open or plan to reopen soon, and we've indicated which ones have patios. Please note that we are making every effort to keep our restaurant list accurate. But with orders regarding occupancy being updated often, the information provided above is be subject to change. It's always a good idea to call or check social pages before heading out. 
Wear your mask. Keep your distance. Stay safe. Have some fun in the sun and dance in the moonlight.
Cheers!