You don't have to go all white tablecloth for a fun and romantic date night out. Actually, stepping outside of the fancy dinner box can be much more exciting. Whether celebrating an anniversary, enjoying a couple's staycation or venturing out for a first date, our city's got plenty for you two to do. Read on, because we've picked out a few uniquely Irving date night spots for you and your boo. 
Take it Old-School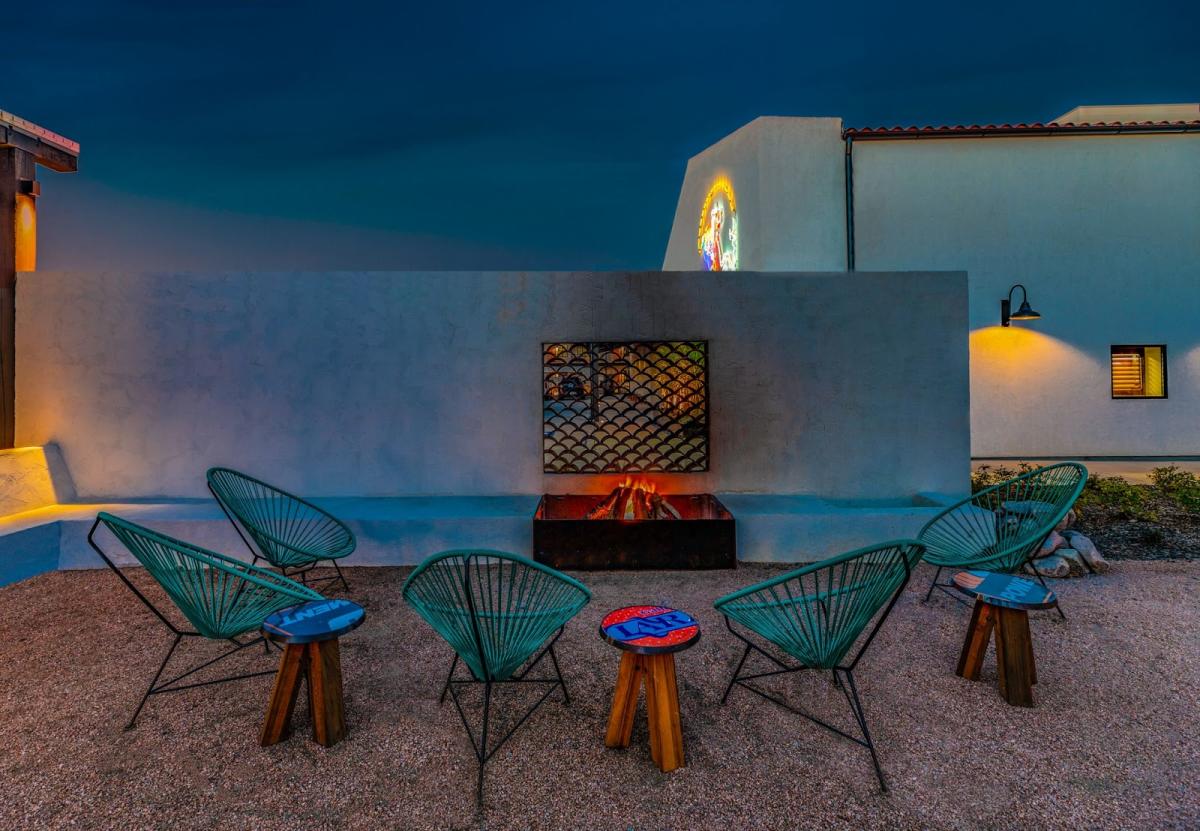 Two Mules Cantina at the Texican Court Hotel is a great date night spot. I love, love, love the Americana of this motor-court-style hotel. It's such an off-the-beaten-path activity to cozy up outside in the twinkle-lit courtyards, sip cocktails, listen to live music (on the weekends) and do a little stargazing. Or if you're in a playful mood, try your luck at Cornhole, Jenga or Connect Four. A little friendly competition always makes for an interesting time. Then… for even s'more date-night fun and a bit of nostalgia, couples can purchase a s'mores kit complete with grahams and chocolate and marshmallows for roasting. Did I mention that the courtyard is dotted with fire pits and fireplaces to be enjoyed in winter, spring, summer or fall?
If you decide to upgrade date night to a date-cation, you're just steps away from retro-style guest rooms with SMEG refrigerators fully stocked with Texas beers, wine, sodas, liquor - pretty much anything you might want … or need, like water. In the morning, after you sip coffee from your personal rocking chairs, you can take a spin around Lake Carolyn on complimentary bicycles and start the courtyard party all over again on a lounger next to the old-school circular swimming pool.
Get Ready, Set, Throw!
To step up the fun factor on date night, make a res to throw down at Stumpy's Hatchet House. It sure as heck won't be a dull date, and you'll definitely share some laughs and gain a little insight into each other's temperament. This would be a great date spot for that all-important getting-to-know-you third date. If all goes well, you can always make an evening out of it with dinner at any one of the Toyota Music Factory's twenty or so restaurants and bars. Or grab a blanket for live music at the free Friday/Saturday Night Concert Series on the Texas Lottery Plaza stage. You'll still be just a hop, skip and a jump from the Texican Court … or the Westin is even closer if you decide on the "fantasy suite."
 
Grab a Slice of Italy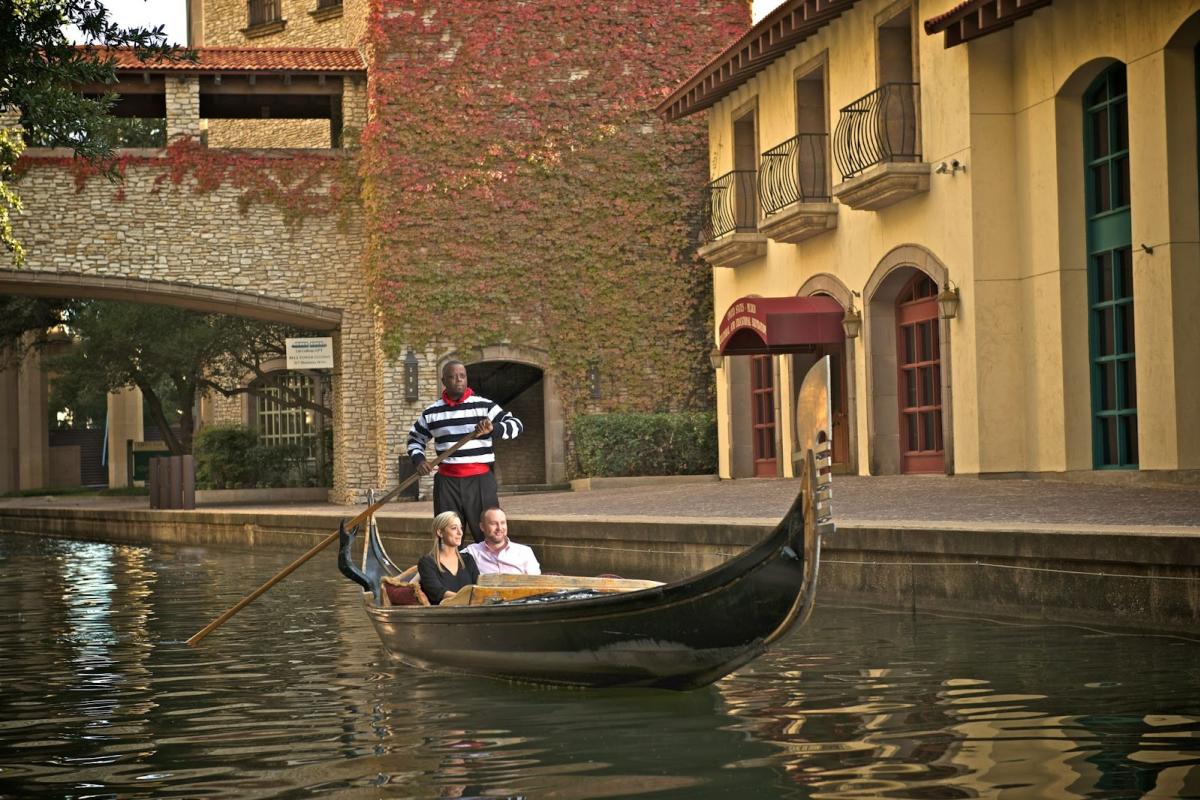 There is nothing more romantic than a gondola ride through the canals of Venice. But when you can't hop on a flight to Italy, the next best date night in DFW is a gondola ride through the waterways of the Mandalay Canal and Lake Carolyn. You don't have to plan a marriage proposal to jump aboard and sail away on a romantic cruise, but lots of hopeful fiancés have. Your intimate excursion will likely have a singing gondolier, and tradition dictates that couples kiss underneath every bridge! There are all kinds of romantic add-ons too. Remember those notes you passed with checkboxes to see if your crush was also crushing on you? Well, here's a little extra that rates much higher on the romantic gesture scale - a 'Message in a Bottle.' Again, proposal not required. A simple love note will do. Post-cruise, while you still have all the romantic feels, stroll into the  nearby Italian Cafe to share some pie and pasta "Lady & The Tramp" style.  Reserve your ride. 
Elevate the Dinner Date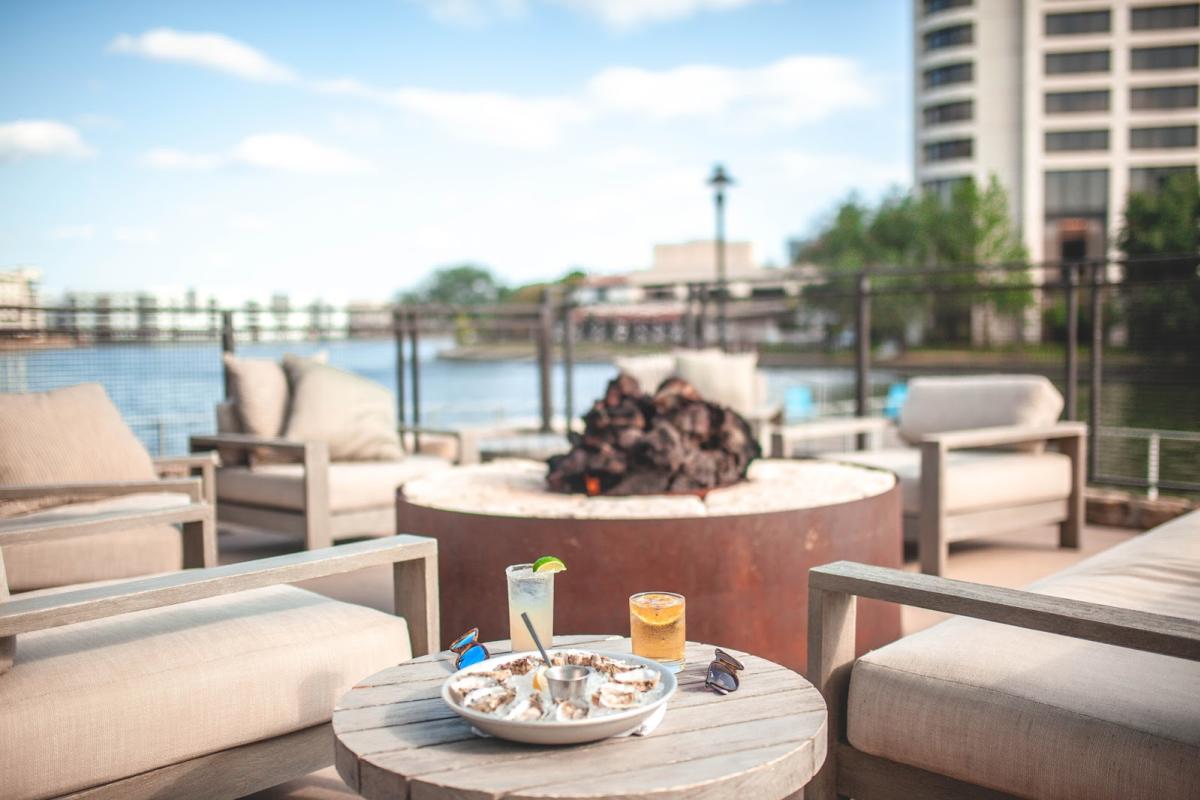 If you're a fan of the wine-and-dine dating model, and I most definitely am, the restaurants at Water Street make for a great date. I mean, EVERYONE loves to eat!  Hugo's Invitados has ah-mazing  food and cocktails. The Ginger Man has one of the best patios in all of Dallas/Fort Worth. And Cork & Pig is fun for brunch. I am, however, a huge fan of Pacific Table. The seafood is impeccable, and the ambiance is elegant, yet anything but stuffy, which makes it perfect for a get-to-know-you date night without the pretense of fine dining. There's a stellar wine list, a friendly staff and a beautiful dining room with huge windows. The backdrop of Lake Carolyn is ooh-la-la and if you manage to go at sunset, that big Texas sky is nearly irresistible. Snag a table on the patio near the firepit for an even better vibe. A stroll around the lake  and/or the Mandalay Canals makes for an excellent post-dinner excursion. Oh, and here's a little tip for date night at Pacific Table: order the oysters flown in daily from the east and the west, because, well, oysters.