Summer may be coming to a close, but the fun isn't over yet! Irving is bustling with activity this August, from comedy shows to concerts and shopping experiences. Check out what's happening this month and get ready to make some great summer memories that are sure to stick with you for the rest of the year. 
Catch a Comedy Show
Irving Heritage Park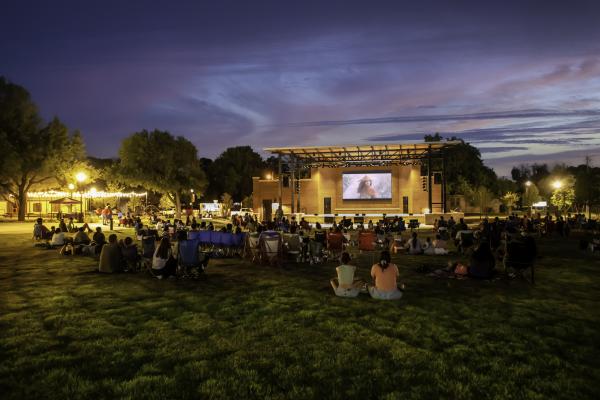 If laughter is the best medicine, then attending a comedy show is exactly what the doctor prescribed. You're sure to belly laugh long into the evening on August 12 during this month's On Stage at Heritage comedy show with Dorie McLemore. Perfect for adults and kiddos, Dorie's clean comedy will undoubtedly make you LOL.
Grab a bite to eat at one of the delicious Heritage District restaurants before heading to Heritage Park for this free comedy show, starting at 6:30 p.m. If you want to eat at the show, there will also be food trucks at the event. Bring your picnic blankets or lawn chairs to Heritage Park and settle in for an evening of laughter and fun!
Rock Out at The Pavilion
The Pavilion at Toyota Music Factory
There are a lot of great concerts happening at The Pavilion this August, starting with famous boy band Big Time Rush and Fort Worth's very own Leon Bridges. Whether you want to shout along with Three Days Grace or let the kiddos dance into the evening during Kidz Bop Live, there's something for everyone to enjoy this month.
Pro tip: Plan ahead and book a room at Texican Court for the evening – You can dine at their Two Mules Cantina, or walk to the Toyota Music Factory, enjoy dinner at one of the many restaurants, and best of all, stay for the encore without having to worry about post-concert traffic.
For more concerts at The Pavilion this August, click here.
Shop "Back to School" Sneakers
Irving Convention Center at Las Colinas
Sneaker fanatics, rejoice! On August 21, the Sneaker Travelers will be at the Irving Convention Center with hundreds of sneakers, vintage gear and artwork to explore. From Nikes to Jordans, you'll find plenty of options to choose from at this kicks-themed convention. It's the perfect event to attend if you're looking for new back-to-school shoes! Better yet, if you have some great sneakers that need a new home, you can bring them with you to sell or trade for another pair.
Get Creative at a Sewing and Quilting Expo
Irving Convention Center at Las Colinas
If you're a fan of sewing or quilting, you won't want to miss the annual Original Sewing and Quilting Expo on August 18-20. Here, you'll find amazing quilts on display, different classes you can take to step up your skills, plenty of great vendors to fuel your creative passion, and more. There's even a Runway Fashion Show on August 18 where attendees can show off their favorite sewing creations. Single-Day tickets are $10 online and $15 at the Expo.
Explore Local Artwork
Irving Arts Center
Admire artwork from local Irving artists this August during a trip to the Irving Arts Center, where the 22nd Annual Art Connection Members Show is on display all month long. This annual exhibit, located in the main gallery, showcases work from various members ranging from young to professional artists. Although these might not be big-name artists, their talent is sure to leave you awestruck and inspired. While you're at the Irving Arts Center, be sure to check out their other exhibitions and sculpture garden, free to the public from noon to 5 p.m. every Tuesday through Saturday.
Have One Last Summer Hurrah
Four Seasons Resort and Club Dallas at Las Colinas
Soak in the magic of summer one last time with a getaway at the Four Seasons Resort and Club in Irving. This upscale hotel is perfect for a family vacation, complete with a golf course for dad to enjoy, a spa where mom can relax, and a swimming pool that the kids are sure to love. It's also within close driving distance of the Toyota Music Factory (in case you want to catch a concert) and the magical Mandalay Canals.
Stand Up Paddle North Texas
Want to round out your summer with an amazing adventure during your getaway? Spend some time paddle boarding along the Mandalay Canals or on Lake Carolyn with Stand Up Paddle North Texas, which offers sunset paddle boarding experiences and paddle boarding lessons for all ages — ideal for making memories and celebrating the last month of summer fun.