The international day of love is coming up and whether you are heart-eyes over it or just think it's another Hallmark holiday, there is no shortage of excellent restaurant choices in Irving for Valentine's Day. If you're like me, then food is your love language and what better way to show your love this Valentine's Day than sharing a delicious meal with your significant other, friends or family. Dining in, take-out at home or just looking for an elevated cocktail and appetizers, check out these lovely Irving favorites for a romantic Valentine's Day! 
The Keg Steakhouse + Bar
If you are looking for that classic steakhouse experience, The Keg is the spot. Amazing selections of steaks and seafood alongside staples like French onion soup and escargot, you will feel as if you are dining in the big city while enjoying this favorite in Irving. With exceptional staff that serve you kindly from the door to your table and consistently throughout your meal, you'll love the experience. This Valentine's Day, The Keg is offering a special menu for all those looking to celebrate love and delicious food. Enjoy a 3-course meal accompanied with a crisp Caesar salad, a 7-ounce filet mignon or 12-ounce New York striploin with an Atlantic lobster tail. For dessert, choose between options like their famous Billy Miner pie or Canadian coffee. Order this Valentine's special for curbside, pick-up or dining in. Make your reservations soon because this popular spot will fill up. 
Pacific Table - Las Colinas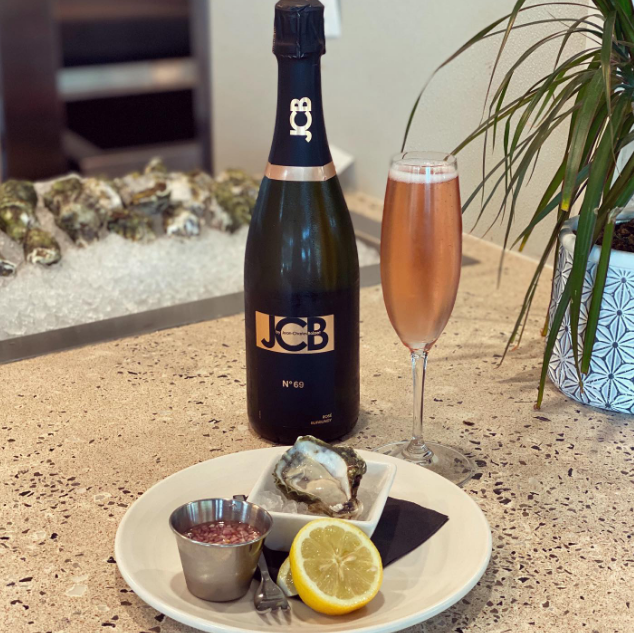 If your ideal Valentine's Day includes fresh oysters and champagne, then head to Pacific Table! Always fresh seafood and chef-driven menu items make this Water Street favorite a picturesque meal for any occasion. If the weather permits, opt to sit on their beautiful lakeside patio that also features a fire pit if temperatures start to drop, or dine at their gorgeous bar or a booth in the floor-to-ceiling windowed dining room. 
LAW Restaurant 

The ultimate couple's retreat, LAW Restaurant located at the Four Seasons Resort offers local Texan flare in an upscale environment. Experience their amazing charcuterie board, dry-aged in-house, craft cocktails made by skillful bartenders, or some of the best selections of steaks, seafood and other meats that showcase the best Texas and Texan chefs have to offer. Enjoy their lovely dining room or patio that offers fire pits for cooler weather. This Valentine's Day, LAW will be featuring a special menu so keep an eye on their social media for updates. 
Blaze Brazilian Steakhouse
310 West Las Colinas Boulevard | (469) 208-7977

The definition of tableside service, Blaze Brazilian Steakhouse is a true gem in Las Colinas. Fresh meats seared to perfection in an all-you-can-eat style is the best way to say, "Happy Valentine's Day!" While some may advise not to fill up on the salad bar, the high-quality ingredients and delicious sides at Blaze beckon your taste buds for more. If you are looking to elevate your meal, Blaze offers buttery lobster tails for an additional cost. Be sure to leave some room for dessert and a champagne toast to your loved one. 

Mexican Sugar Cocina y Cantina

Combine margaritas, tacos and one of the most beautiful interiors and patios in Irving, and you've captured the perfect Valentine's Day! Mexican Sugar Cocina y Cantina is elevating the Latin food game in Irving through fresh ingredients, delicious chef-curated dishes and cocktails that are both beautiful to look at and taste amazing. Many entrees are perfect for sharing and you can spice up your date night with a margarita flight or tequila tasting. If you are looking to take your fiesta home, enjoy easy curbside pickup! 

The Blue Fish 
320 West Las Colinas Boulevard #110 | (469) 206-0305

Sushi is one of my favorite dishes any time of the year, but for Valentine's Day, The Blue Fish kicks it up a notch for the perfect meal. This award-winning Japanese kitchen puts an extra emphasis on quality and freshness that can be experienced with each bite. Even if you are not one for raw seafood, The Blue Fish offers a wide variety of Japanese favorites that will be perfect for date night, like the Kobe sizzler that lets you cook your beautifully marbled, thin-sliced steak to perfection on a hot rock. Order a bottle of sake for the table and enjoy some of the best sushi in Irving! 
Bruno's Ristorante

Classic Italian food with a view - Bruno's Ristorante is a favorite amongst locals and visitors alike, and for a good reason! Located along the canals in Valley Ranch, Bruno's offers the best service and delicious entrees for all to enjoy. Whether you want to keep it simple with some of the best pasta in Irving or go extra special for date night with a beautiful ribeye steak, Bruno's has it all - even live, romantic piano music. Choose a bottle from their extensive wine list or enjoy a cocktail from their skilled bartenders. 


Hugo's Invitados

Always a bright and refreshing meal, Hugo's Invitados is a community favorite and now a staple in Irving. Since opening in 2018, Hugo's has shown North Texas what fresh, intentional, Latin ingredients can do to elevate classic dishes of Mexico into beautiful and flavorful creations. Dining at Hugo's is always a treat and the beautiful floral interior will make anyone feel special this Valentine's Day. With a large selection of tequilas and mezcals, be sure to ask their always friendly staff for some cocktail recommendations to compliment your meal. 
 
La Margarita Mod Mex Kitchen and Rita Lounge

Every meal at La Margarita feels special between their chef-driven menu, refreshing cocktails and incredible staff. Choose between their dining room to enjoy modern Mexican cuisine or the Rita Lounge for a unique experience, including bar bites handcrafted by the head chef paired with freshly infused margaritas, like my favorite - the hibiscus jalapeno margarita. When spending Valentine's day with La Margarita, the sopapillas are a must and a great pairing to enjoy with champagne! All of the incredible margaritas and entrees at La Margarita can also be enjoyed to-go! 
Mercy Bar & Lounge
340 West Las Colinas Boulevard Suite #200 | (469) 351-0222

For all my wine lovers out there who want to enjoy an elevated bar environment with amazing food that can be perfectly paired with the extensive wine list, Mercy Bar & Lounge is your place! Whether you belly up at the bar or enjoy their balcony overlooking the Toyota Music Factory, this wine bar of Irving is a great option for Valentine's Day. While the menu may not be as large as other restaurants nearby, each dish is intentional to showcase the inner foodie side of the staff and how beautifully wine and food can pair together. Sit back and enjoy their live music, and if you are new to the wine world, their staff will gladly help you find the perfect bottle. 
Two Mules Cantina 
501 West Las Colinas Boulevard | (469) 577-4599

Everyone's idea of romance is different, but a twinkle lit courtyard with old Mexico charm, a refreshing tequila cocktail in your hand and live music all sounds pretty romantic to me. This can be found at Two Mules Cantina located inside the Texican Court hotel. Indulge in savory starters like their loaded street corn and unforgettable entrees like the enchiladas de rez featuring smoked beef cheek, ancho sauce, rajas and queso blanco. Enjoy a few of their signature cocktails and say "Salud" to a great Valentine's Day in Irving! 
Venetian Terrace 

A truly unique dining experience in Irving, Venetian Terrace allows guests to enjoy a meal right on the Mandalay Canals. While the restaurant is only open for lunch, you do not want to miss the opportunity to share an Italian meal while watching the gondolas of Lake Carolyn stroll by. From pastas to fresh seafood dishes, Venetian Terrace is the perfect matinee Valentine's Day experience. With Valentine's Day being on a Monday this year, if you don't think you can sneak away for a romantic lunch, order your meal at Venetian Terrace to-go and enjoy later that night at home. 
Villa's Brazilian Steakhouse Grill

Tucked away in the historic Heritage District of Irving, Villa's Grill is a great dining experience for Valentine's Day. Their friendly staff and delicious meats carved tableside create a romantically memorable evening. This family-owned restaurant with set dinner prices allows you to enjoy as much as you can eat with high-quality meats and salad bar sides, including traditional Brazilian tastes like fried polenta and grilled pineapple. If you are looking to enjoy this Valentine's Day at home, try one of the Villa's Grill platters like the picanha plate with garlic picanha and a side of rice and beans. 
Wherever you end up in Irving this Valentine's Day, remember to spread the love to your local servers and cooks as they work through one of the year's busiest shifts and make your reservations early to avoid long wait times. Cheers, y'all and have a lovely Valentine's Day!