Staycations are the best way to vacation. With Labor Day weekend just around the corner, we've rounded up some standout Irving hotels for a perfect summer send-off staycation. Read on and you may just find yourself savoring summer's finale poolside or lakeside or both - cocktail in hand, toasting the end of a season we will surely not forget.
Stay & Play in the LC
Las Colinas Visitor's and Entertainment District
The hotels located in the heart of the Las Colinas Urban Center are smack-dab in the middle of Irving's WALKABLE entertainment district with eateries & drinkeries galore, axe-throwing, live music, movies, water sports, waterfront dining, lakeside strolling and more!
Dining options at the Toyota Music Factory entertainment complex and the Water Street retail development range from immersive dining experiences at upscale restaurants to expertly crafted cocktails, wine rooms and gastropubs to farm to table and everything in-between. Some venues have reintroduced live music and feature fun activities like contactless trivia. Plus, Toyota Music Factory's Alamo Drafthouse is scheduled to reopen this weekend.
Westin Irving Convention Center Hotel
The Westin Irving Convention Center at Las Colinas is an ultra-modern, music and art inspired hotel that is adjacent to the Toyota Music Factory entertainment complex.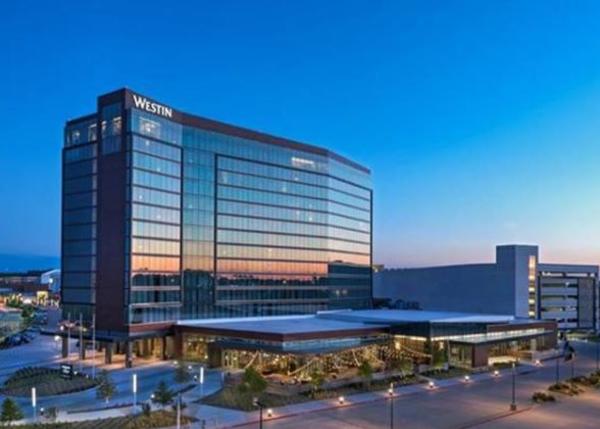 Best for: Relaxation, pool time, sunset views, couples, besties, fur babies
You will love: the rooftop pool and, of course, the Heavenly beds
"Five more minutes" in our Heavenly® Beds are never quite enough.
On-site dining: Grab your favorite Starbucks beverage and a tasty breakfast sandwich each morning. The Toyota Music Factory eateries are so close they're practically onsite.  Dine out or order in some great food from right next door.
Need a quick grab and go breakfast sandwich? Stop by Craft Coffee located in the Westin ICC's lobby. Outside access and outside seating available. We Proudly Brew Starbucks so stop in for your favorite Starbucks drink today. #craftcoffee #westinirvingcc
Bonus: Pamper your pooch too!
Pooches deserve to sleep on a cloud, too. 📸: @tobiasthebichon
Offers: Turn that one-night event into a weekend with our Sunshine + Jams package! 
Read more or view deals.
Texican Court Hotel by Valencia 
Escape from your everyday life to the retro-inspired Texican Court and spend your evening under the stars, snuggling around the fire pits and enjoying live music every weekend.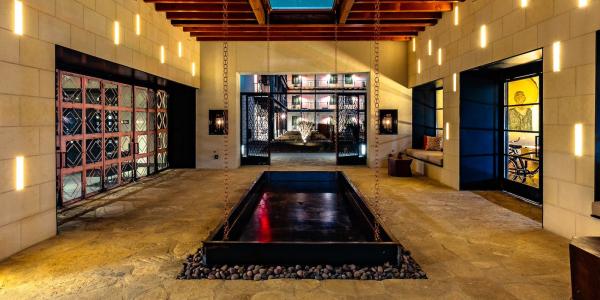 Best for: Glamping, pool time, live music, Instagramming, couples, kids, friends, hipsters, fido
The perfect spot to spend your weekend! Check out our special offers and join us at Texican Court- https://bit.ly/2EWv4vQ • • • Repost from @alwayzfashionablylate
You will love: Expansive courtyard, fire pits & pool, kitschy rooms
We've got the space you need to social distance! Texican Court is ready to welcome you this weekend with complimentary bicycles, fire-pits, outdoor pool, Two Mules Cantina, and more! Come see us!
On-site Dining: Two Mules Cantina
With a name like Texican Court, we're proud to offer some of the best Tex-Mex in the Las Colinas urban area at Two Mules Cantina! We serve guests with the attitude of "Make Tacos, Not War." 🌮 #texicancourt #valenciahotelgroup #irvingtx #lascolinas #twomulescantina #maketacosnotwar
Bonus: Pet Package includes Pup welcome amenity - "pup snack box" of assorted pup treats, Texican pup bandanna.
Nothing like a Sunday morning check in with your best bud 🐶 • • • Repost from @crystalkatebonham #texicancourt #valenciahotelgroup #irvingtx #lascolinas #sundayfunday #treatyourself #happysunday #petfriendly #furryfriendswelcome
Offers: Glamping, Pet-Friendly and Romantic Weekend Getaway and more.
Omni Las Colinas Hotel
At the Omni Las Colinas you'll experience the urban energy of the Las Colinas entertainment & visitor's district, plus the tranquility of the waterfront location on Lake Carolyn.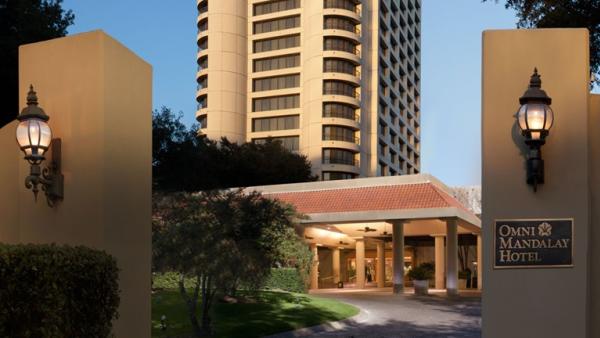 Best for: The pool scene, relaxation, modern digs, couples, friends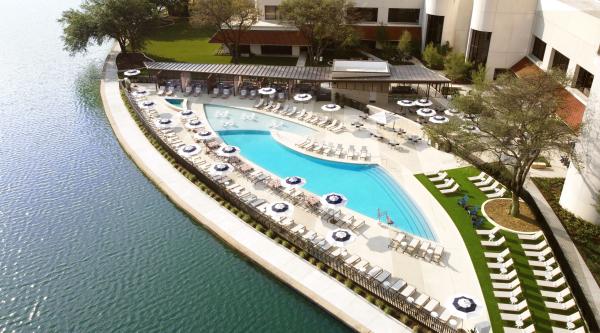 You will love: poolside cabanas & lakeside view
Lounge the day away poolside. Enjoy a reservation of a semi-private cabana and cushioned lounge chairs, with full food and beverage services for an additional fee. For reservations and availability, call (972) 556-0800. #OmniLasColinas #AtTheOmni . . . #lascolinas #irving #irvingtx #irvingtodo #bar #dallasbar #cocktails #dallastodo #dallastx #texastodo #dallasevents #travelenvy #travel #hotelbar #instagram #waterfront #hotel #sunset #travelenvy #instatravel #photooftheday #visitirving
On-site Dining: The Omni Las Colinas completed a $13 million renovation last year to various common space amenities including The Lakehouse Waterfront Lounge, a luxurious and spacious new resort-style poolscape and lounge area, as well as three new dining concepts including LRH Restaurant & Bar; Flossie's; and Over the Counter.
Setting is just as important as the meal. Enjoy craft cocktails, local brews and Texas-inspired dishes at our brand new restaurant and bar, Little Ranch of the Hills, or "LRH" as the locals call it. Now open! #OmniMandalay #VisitIrving #AtTheOmni . . . #lascolinas #irving #irvingtx #irvingtodo #bar #dallasbar #cocktails #dallastodo #dallastx #texastodo #dallasevents #travelenvy #travel #hotelbar
Bonus: Come enjoy this renovation firsthand. 
Magic in the details... #OmniMandalay #AtTheOmni . . . #lascolinas #irving #irvingtx #irvingtodo #bar #dallasbar #cocktails #dallastodo #dallastx #texastodo #dallasevents #travelenvy #travel #hotelbar #instagram #waterfront #hotel #sunset #travelenvy #instatravel #photooftheday #visitirving
Marriott Dallas at Las Colinas 
The newly remodeled Marriott Dallas Hotel offers spacious rooms with luxury bedding, convenient in-room dining and lies just between Water Street and the Toyota Music Factory.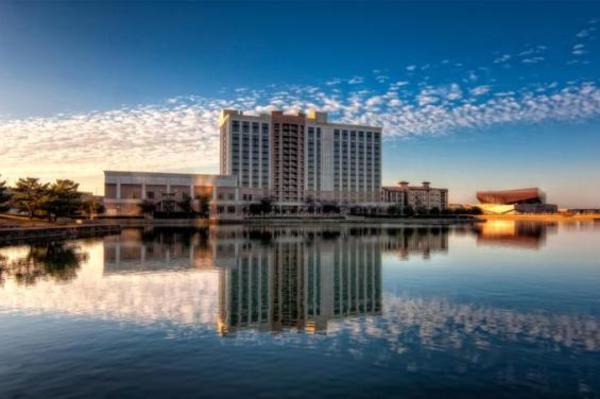 Best for: Location, lake views, modern and newly renovated accommodations, food & fun for families & couples
You will love: Rooms with balconies and gorgeous views of Lake Carolyn and Las Colinas
Looking for a great place to relax after a long week? Dallas Marriott Las Colinas is the place! Check out our Double Queen Guest Room with balcony view. #FeatureFriday#checkin
On-site Dining: A dining experience unlike any other awaits at Bistro Fiera. Savor American fare with a Mediterranean twist while enjoying our relaxed indoor atmosphere.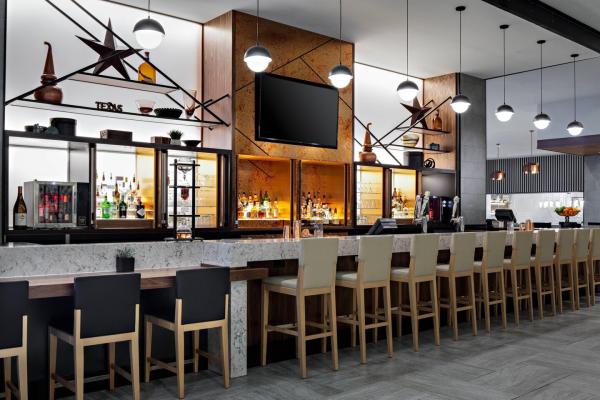 Bonus: Take a Gondola Cruise from the hotel terrace!
It's officially GONDOLA SEASON! We love partnering with @gondolaadventures for any wedding, special occasion or guest need for a peaceful cruise around Lake Carolyn🚤 #dallasmarriottlascolinas #dallasweddings #gondolaride
Offers: Read more or view all deals.
Splurge at Texas' Original Urban Resort 
Four Seasons Resort and Club at Las Colinas 
Discover an unexpected mix of cosmopolitan amenities and nature-filled surroundings when you book a villa at the Four Seasons Resort and Club!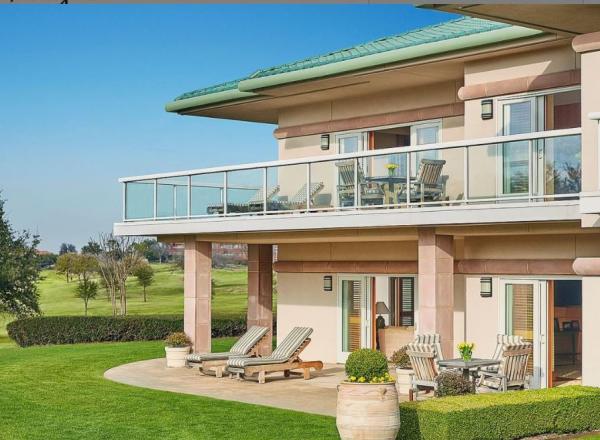 Best for: Romance, relaxation, family-fun, spa, a round of golf, fitness, fido
And pampered pooches! 
You will love: the sprawling urban oasis complete with pools, private daybeds and fire pits for evening s'mores and chats
Your private yet spacious escape awaits. Take time to relax, reconnect, and recharge in our sanctuary from the city. Photo: @CurlsandCashmere
On-site Dining: At LAW, the resort's signature restaurant, sit down for bold Texan fare using the finest ingredients and inspired by the robust, local flavors found in our state's land, air and water. Open every summer, the poolside bar and eatery offers fun, flavorful all-American favorites with handcrafted summer cocktails and drinks or you can share a romantic dinner in the privacy of your room.
Morning light pouring in through the floor to ceiling windows before breakfast is served. #LAWRestaurant Photo: @jenniferboomer
Bonus: Live music on the weekends and the spa time!
Sway to the tunes of local musicians on the patio with a side of poolside views. Live music returns to the #FSSoundstage every Friday and Saturday from 5:00 – 8:00 pm.
Offers: Stay Longer – Third Night Free! Read more or view all deals.
Minutes from nearby attractions including the Toyota Music Factory, Alamo Drafthouse, the Mustangs of Las Colinas, Water Street and the Irving Arts Center.
Savvy Staycationers will like these Trendy Nearby Spots
NYLO Las Colinas Hotel
New York City loft living in Las Colinas, the recently remodeled NYLO redefines industrial-chic with loft-style rooms, poolside dining and live music. Soaring ceilings, exposed brick, floods of natural light, and their exceptionally tailored service offer an elevated stay.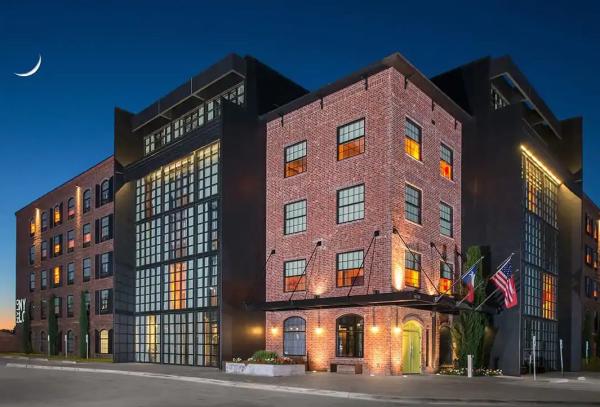 Best for: R & R, fitness, pool time, girl time, hipsters, pets, couples, cuddles
and fun & games galore! 
You will love: the whimsy feel of a chic boutique hotel and loft style guestrooms with exposed brick, polished concrete, and industrial windows. Plus, the 600 sq. ft. Skyline Suite has a private balcony, dining accommodations, and a separate living area with full-size sofa bed, work area with desk, additional seating, and 60-inch HDTV.
Stay with us at NYLO Las Colinas and enjoy our newly renovated New York loft style rooms with exposed concrete walls, plenty of sunlight and amazingly cozy beds.⁠ See you soon 😉⁠ ⁠ #loft #loftstyle #loftdesign #dallasinteriors #dallasinteriordesign #dallasinteriordesignphotography #industrialdesign #industrialinterior #industrial #industrialchic #moderndesign #interiors #interiordesign #style #decor #beautiful #dfw #dfwtravel #dallashotels #travel #vacation #trip #traveler #travelblogger #igtravel #vaycay #travelusa #forthworth #mesquitetx #forthworthinista
Onsite Dining: The Loft is currently closed, however, beer, wine, cocktails & more are available at the hotel's Grab & Go, located on the main floor lobby. Grab a refreshing drink and snack before relaxing poolside. Myriad of dining out options are close by. 
Bonus: Perfect for Poochy
Travel with your best pal and stay at NYLO 🐱🐶 ⁠ Both dogs and cats are permitted!⁠ We welcome two pets up to 40 lbs for an additional fee of $50 per pet every three nights. All rooms are pet friendly 🐾⁠ ⁠ #petfriendlyhotel #petfriendlyhotels #dogofinsta #petsarefamily #traveldogs #homeawayfromhome #travelwithdogs #travel #vacation #traveler #travelblogger #igtravel #vaycay #travelusa #ustravel #staycation #travelblogger #lifestyleblogger #travelinfluencer #darlingweekend#vacation#travelgram #traveldiary #tappestrycollection
ALOFT
Aloft Hotels are all about vibrant & energetic spaces that bring people together.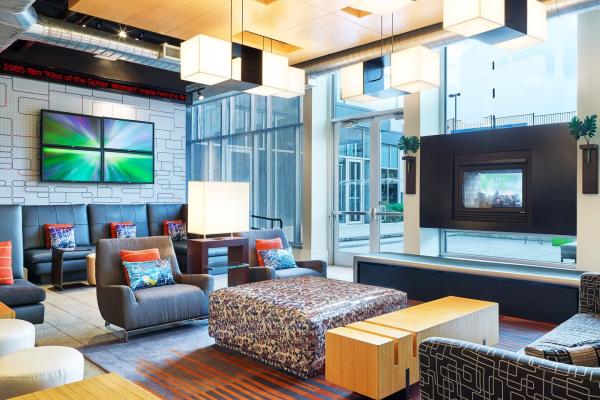 Best for: Location, trendy spaces, fun rooms, singles, couples, families, artsy-fartsies, fido & friends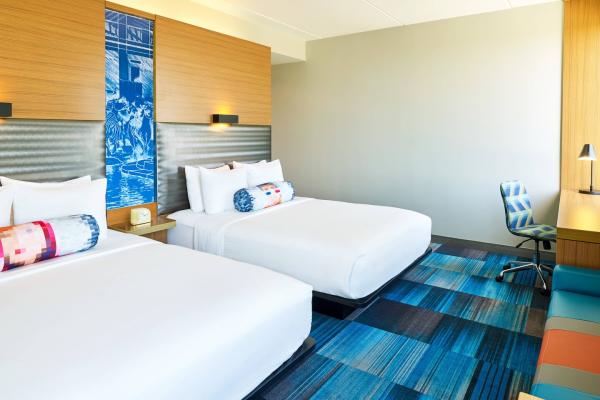 You will love:  the convenience of traveling with your four-legged family member, thanks to their pet-friendly rooms offering dog beds, treats and toys.
Onsite dining: Grab a bite to eat at Re:fuel by Aloft, enjoy a refreshing cocktail at W XYZ® bar and connect with loved ones using the free Wi-Fi in their Re:mix Lounge.
Come visit us at the #wxyz bar and enjoy a nice 🍸 with Mr. Patches!! Our Bartenders are top notch!! ————- #hotels #hotel #travel #luxury #vacation #hotelroom #hospitality #luxuryhotel #holiday #restaurants #love #spa #photography #luxuryhotels #hotellife #instagood #tourism #resorts #luxurylifestyle #travelblogger #boutiquehotel #restaurant #interiordesign #design #hoteldesign #luxurytravel #instatravel #lifestyle #travelphotography
Bonus: Art!
We are so excited to have @mr.c_artwork_official display his amazing artwork at the Aloft Las Colinas!!! When you have a chance come by and show ❤️ __________ #hotels #hotel #travel #luxury #vacation #hotelroom #hospitality #luxuryhotel #holiday #restaurants #love #spa #photography #luxuryhotels #hotellife #instagood #tourism #resorts #luxurylifestyle #travelblogger #boutiquehotel #restaurant #interiordesign #design #hoteldesign #luxurytravel #instatravel #lifestyle #travelphotography