Kids are doing it. Dogs are doing it. Mom and Dad are doing it, and you can do it too. 
You can do it in the ocean. You can do it in a river. Or you can do it right here in Irving on the Mandalay Canals. I'm talking about paddle boarding, of course!  
Stand Up Paddle (SUP) is not only an adventure, but a total-body workout with wellness benefits that people of all ages and fitness levels can try. In large part, the beauty and appeal of stand up paddle boarding comes down to its accessibility. And that's especially true in Irving with Lake Carolyn, the Mandalay Canals and the SUP Shack, smack dab in the middle of the Las Colinas Urban Center. And what's not to love about anything in the L.C.?
Paddle for a Purpose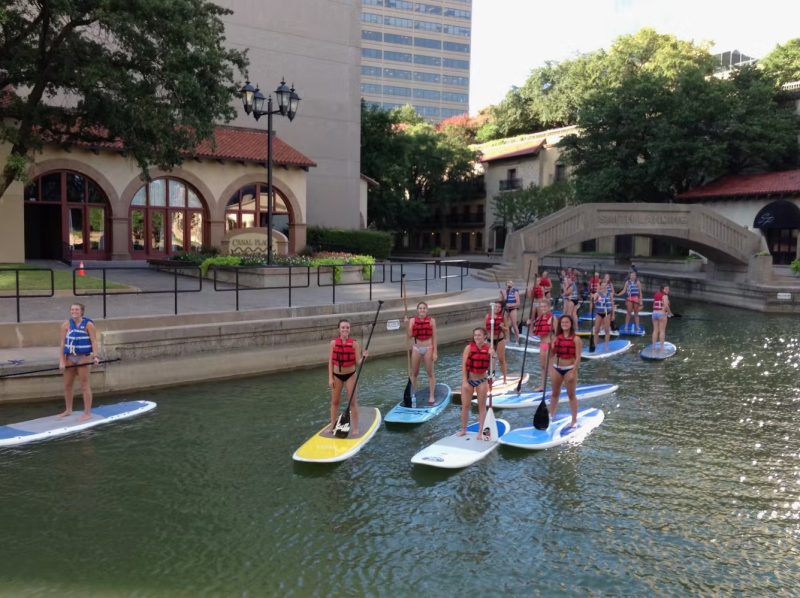 Paddle boarding, a hybrid between kayaking and surfing, is a fast growing popular pastime that is both a great source of exercise and undeniably fun.
You can kneel, sit, stand or do yoga on your board. However you chose to glide across the water, SUP help will help with your balance.

Using your feet, legs and core to stabilize and your upper back and arms to paddle, every muscle in your body gets some love and yet, it's a low impact workout.

It's exhilarating to get out on the water and enjoy nature, so it hardly feels like exercise.

SUP is a stress reliever. With just your stand up paddle in hand and your focus on staying afloat, it is difficult to think about any of your past or future worries. You're just livin' in the moment! Not to mention, falling off the board can give you a serious adrenaline rush to push off any stressful feelings. 

Paddle boarding is a walk in the park, but a much more exciting way to spend time with family, friends or your romantic partner. Warning: Failure to balance could cause contagious laughter.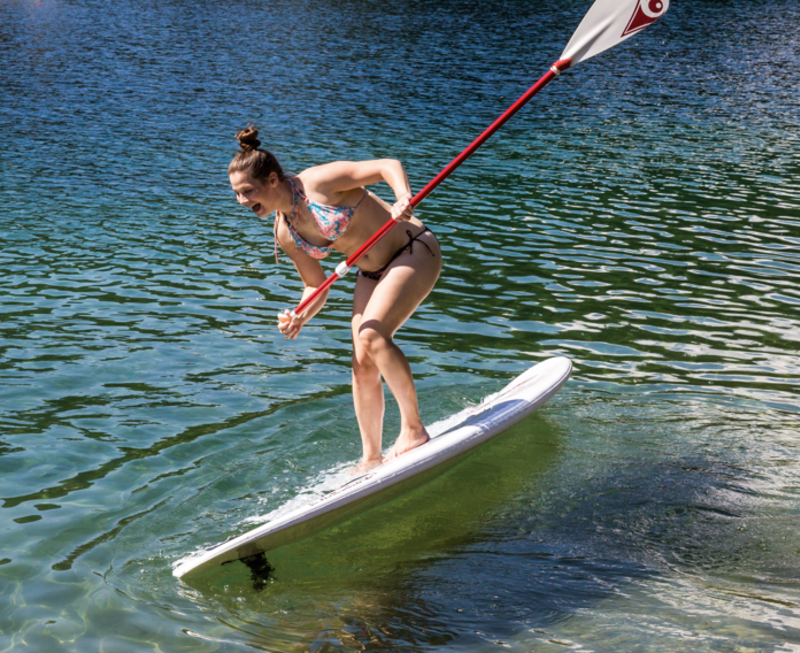 Get on Board at the SUP Shack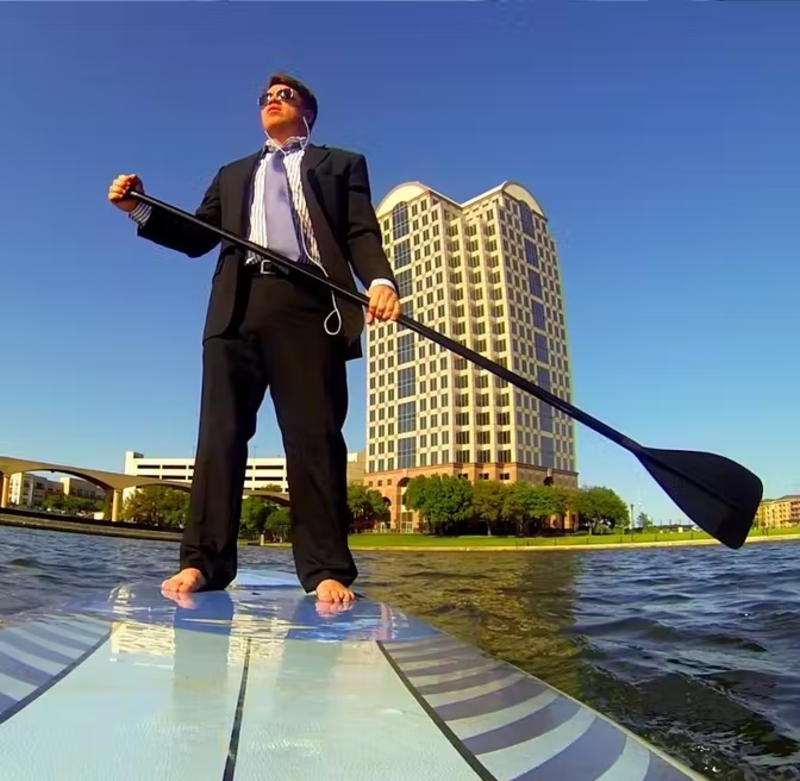 Located just steps from the entertainment district, the SUP Shack is just a short walk from hotels, restaurants and nightlife - a fun adventure for visitors. And if you're local, you can get a workout and a breather on your lunch break during a peaceful paddle on Lake Carolyn whilst co-workers gaze out the window wistfully… wishing they were not eating a salad at their desk.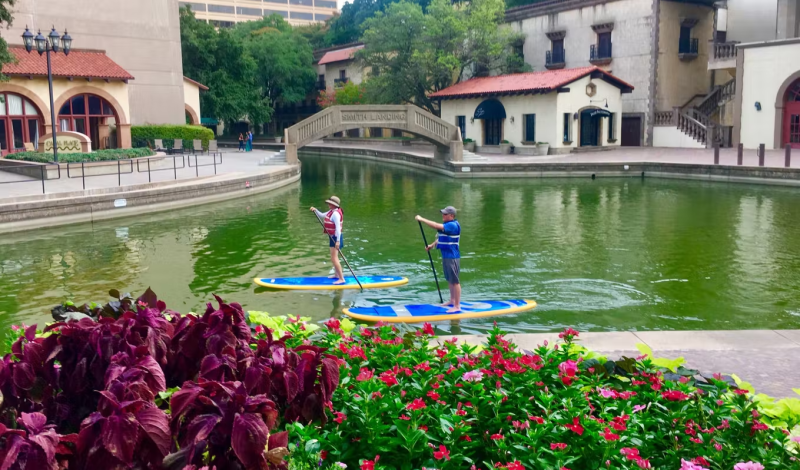 The SUP Shack provides rentals for one or two hours ($25 - $40) complete with a brief orientation about the equipment, route and paddleboard etiquette. Boards, paddles, life jackets and water are provided.  If you are a first-timer or need a refresher, Kevan, the transplanted Californian that runs the operation, will teach you all you need to know (and then some) to paddle safely with confidence. And no, Kevan is not the businessman in the above photo who is cruising the lake in a suit. Picture instead a wind-blown surfer-type dude in flip flops and Maui Jims, and I promise you will be much more comfortable in his ability to rescue you should you take the plunge. But wait, there's more! Read on, please. 
Namaste on the Water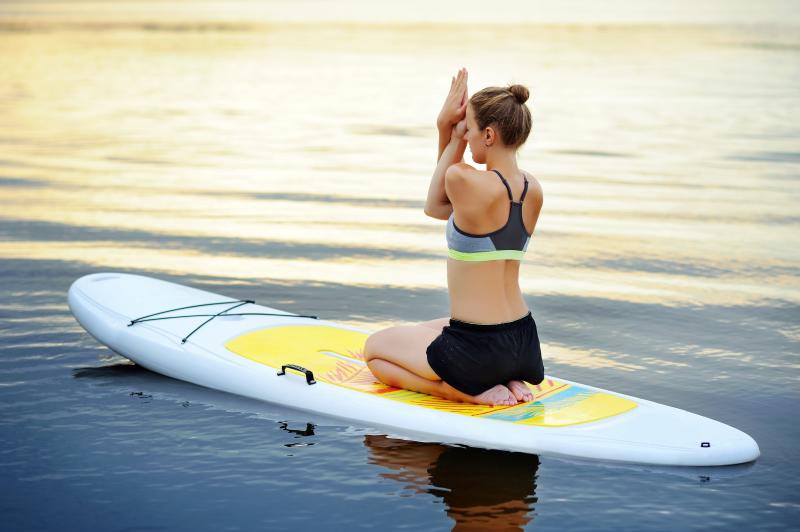 Yes, you CAN start your day with yoga on a paddleboard surrounded by the beauty of nature in a perfect sunrise lake setting. SUP Shack offers SUP yoga classes that cater to all levels, from those with little prior yoga or SUP experience to serious practitioners of both. You can dip your toe in with a single 60-minute class for $30 or jump right in with a package. Call to book.
Do the Dog Paddle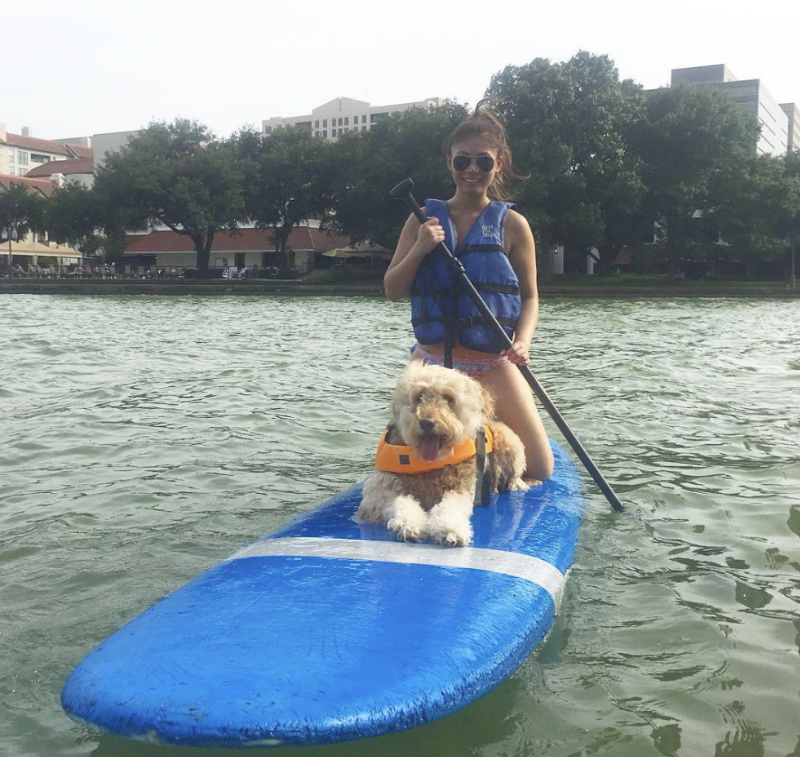 Can a pooch be a paddler's best pal? Yes! Waffle and his human are doing the dog paddle for Waffle's birthday. Make a reservation at Stand Up Paddle and give your furry BFF something to bark about! Just be sure you and your doggo are prepared. 
Make It a Water Play Day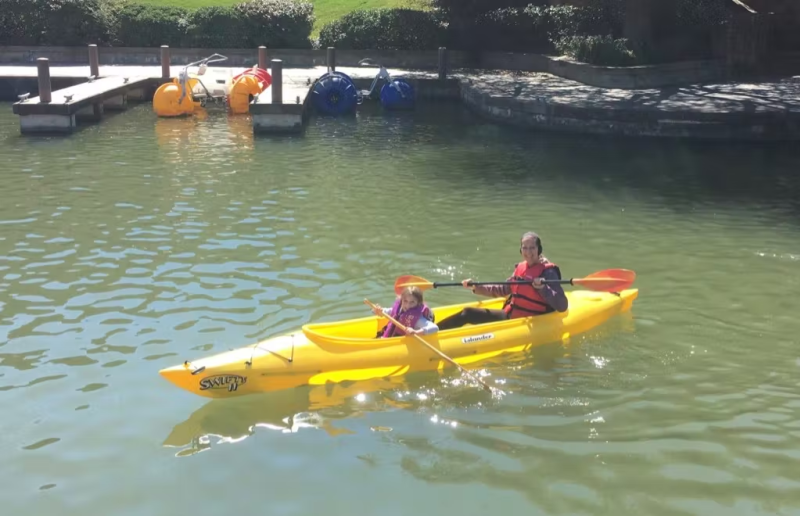 If you're not convinced to give a paddleboard sesh a go, maybe try a kayaking adventure. There are lots of ways to make a splash in the lovely Lake Carolyn and Venetian-like waterways of the Mandalay Canal. Check out Irving Water Fun for all the detes.