Irving has something for everyone when it comes to being outdoors, including— picnicking, hiking/biking trails, sports of all kinds, fishing, swimming, recreation centers, canoeing and boating. Sometimes the kid in us just needs to get outdoors and soak up some sunshine. To that, we say, YES go for it! It's #NationalPicnicDay, there's no better time to grab some food from a nearby hot spot and explore these top five picks for picnicking in Irving-Las Colinas.
Many find that Irving's Mandalay Canal is reminiscent of Italy. Along Mandalay Canal is a running and walking path. It is lined with trees and is one of the more picturesque ways to see the area. Lake Carolyn is a man-made lake that provides waterfront views to thousands. Nestled around the gondola routes are great places to set up a romantic picnic at sunset, making it a great date spot.  You might even be able to enjoy the singing of the gondoliers as they cruise by. A short walk around the area will reveal refreshing waterfall views, scenic bridges – including a love lock bridge, and picture-perfect backdrops. It just might be the best-kept secret in Irving. There is free parking along the streets and in many of the garages.
Top Food Picks Nearby: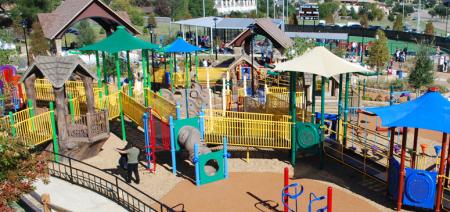 What is a park without a fun-filled playground? If you're looking for a place to relax and let the kids unwind, THIS is your park! Who could turn down a rock climbing wall, wide-open spaces to run, and restrooms? This park is ahead of its time and accommodates children with accessibility needs. You'll find wide ramps, smooth surfaces, and custom swings. Enjoy a picnic at the tables or off-road your adventure to the pond with a water feature and lots of ducks and turtles to feed. 
Top Food Picks Nearby: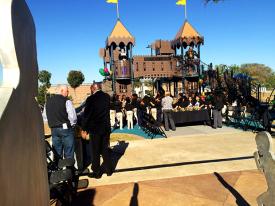 Amphitheater, Castle Kingdom Playground, Disc Golf, Fishing Dock, Pond, Lighted Trail, Picnic Tables, and two Pavilions, and Tennis and Volleyball Courts;  yep this park's got you covered. Irving kiddos even planned the playground themselves. Come see for yourself, its fun factor is through the roof. This is a favorite spot for local families and is definitely kid-approved. 
Top Food Picks Nearby:
If you're in need of a scenic change of pace, check out Centennial Park near downtown Irving. You can escape the urban jungle and relax with family or friends, enjoy a picnic or indulge in outdoor sports. Centennial Park offers visitors pleasant parkland for relaxing and a number of amenities including a log cabin, picnic pavilion on the eastern shoreline of the lake, founder's plaza, beautiful fountain, and walking trails. This park celebrates Irving's first 100 years of existence. Bring your camera, the views are camera-worthy.
Top Food Picks Nearby:
These well-paved trail ways are a runner's dream. Wide lanes and off-road trails draw fitness enthusiasts and casual walkers. Campión Trails is a master-planned, 22-mile greenbelt along the Elm Fork and West Fork of the Trinity River. There are 6.5 miles available in the Elm Fork (north) section and four miles available in the West Fork (south) section. The best part of the trail is the numerous entry points.  There are two major picnic pavilions complete with covered picnic tables and grills.  The trail also has detour paths to scenic overlooks of the Trinity River. Find a grassy place and stretch out, and you'll enjoy the views.
Top Food Picks Nearby:
With 43 parks around town and over 2,000 acres of land, this list only scratches the surface. Go explore and share your favorite picnic spot with us. While there, tag your social post with #VisitIrving for a feature on our pages. Facebook | Twitter | Instagram