If I asked you which football stadium had a hole in its roof so God can watch His favorite team play, would you know the answer? But, of course!
Much has been written about Irving's beloved Texas Stadium throughout the years. For almost 40 years, it housed America's team, the Dallas Cowboys, and showcased many memorable moments. It's where the Cowboys won their last Super Bowl game – all five Super Bowl games, in fact. This iconic stadium not only showcased action-packed NFL games, but it was also a hometown gathering place for graduations, high school football playoff games, concerts, and who can forget the drive-in movie theater in its parking lot? When Irving bid farewell to the Cowboys, we said goodbye to a gentle giant, a behemoth best friend, our white-topped mountain on the horizon. Join me in paying a posthumous tribute to this historic stadium during the 50th anniversary of its construction. Join me in honoring the great Texas Stadium.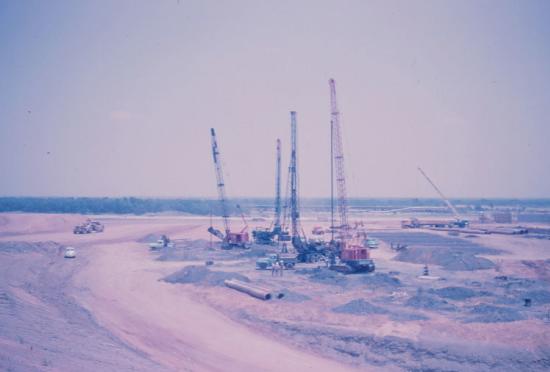 Early 1970's as construction first began on Texas Stadium

 

Don't forget, for the young and young-at-heart, we've included a puzzle in honor of Texas Stadium. Click on the image at the bottom of the page to connect to the mystery puzzle. Now, let's get started … 
In the beginning
Irving's birthing pains to secure a brand new stadium in the early 1970's included worried residents who thought the new stadium would create traffic jams, and that taxes would increase to cover construction costs. Back then, Irving City Councilman and future mayor, Robert Power, thought otherwise. His visionary ideals and support for the stadium, as well as an ingenious construction bond (not taxes) held to raise funds, helped sway public opinion. At last, Irving voters approved the stadium by a margin of two to one.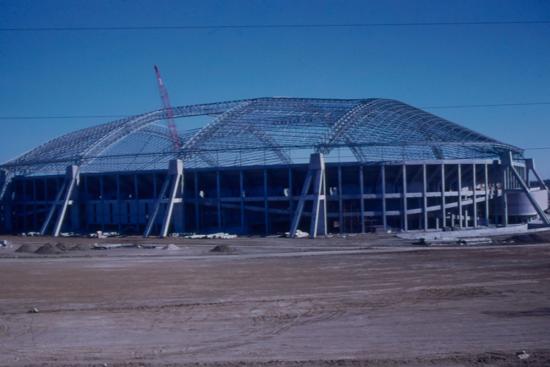 1970 Texas Stadium under construction  

In 1971, the Cowboys were already well on the road to success even before they moved from Cotton Bowl Stadium in Dallas. But playing in their new, dedicated stadium gave them wings to soar. The first NFL game in their new home ushered in a win against the New England Patriots by 23 points. They would then go on to win Super Bowls in '72, '78, '93, '94 and '96. I can't help but think that in addition to their hard work, the new stadium and looking up to greatness in the Ring of Honor helped to achieve this goal.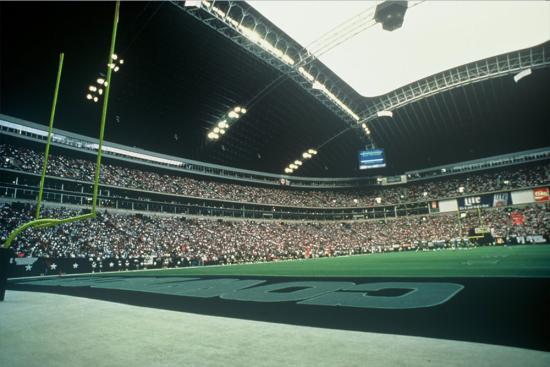 Texas Stadium interior with its open roof and stadium seating filled with fans  

I first graced the stadium's threshold in 1973 when my sister graduated from Irving High School, and was immediately dwarfed by its famous open roof and massive stands. Overcome with a sense of awe, with its blue walls emblazoned with white stars, I could only imagine the stands full of cheering fans during a Cowboys' winning game. Although the stadium was awesome, I remember there was a torrential rain that day just before the ceremony. With an open roof, the plywood stage became soaked and slippery. With a running start, one adventurous graduate slid clear across the stage and stopped just in time to pick up his diploma and shake hands. We all hold individual memories that we cherish, no matter what was going on in the stadium. 
Stadium Highlights
1971 - Before Texas Stadium officially opened in October 1971, Billy Graham held a 10-day crusade in September. Johnny and June Cash, the Statler Brothers, and former President Lyndon B. Johnson and his wife Lady Bird made a stage appearance. More than 60,000 people attended and Graham called Texas Stadium "one of the great stadiums of the world." 
1978-1991 - In the hit television series Dallas, Texas Stadium flashed on the screen in the opening credits. As a result and due to the show's tremendous following, Texas Stadium was arguably one of the most recognized structures in the world. In fact, during one particular episode of Dallas in 1980, over 350 million people around the world tuned in to find out "Who Shot J.R."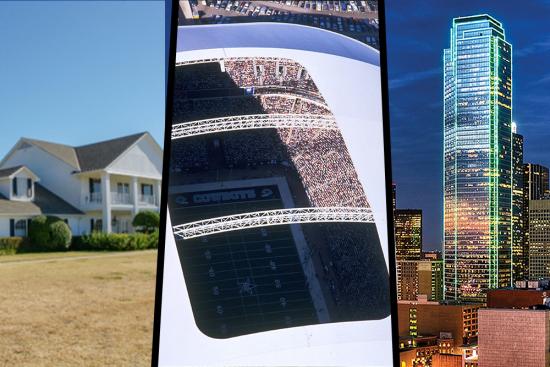 Texas Stadium was featured on the opening credits of CBS's primetime show "Dallas"   

1979 - The famous commercial with Mean Joe Greene accepting a bottle of Coke from little Tommy Okon was filmed at Texas Stadium. "Want my Coke?" "Please, you can have it." "Thanks Mean Joe!" The commercial warmed hearts everywhere. In 2016, Okon reunited with Mean Joe for CBS's annual greatest Super Bowl commercials special. It's hard to imagine that little Tommy is now a little over 50 years old.

1999 - Directed by Oliver Stone, the hit movie "Any Given Sunday" was filmed at Texas Stadium. With an all-star cast including Al Pacino, Cameron Diaz, Dennis Quaid, Jamie Foxx, James Woods, LL Cool J and Ann Margaret, the film grossed over $100 million at the box office.  Its fictional football team, the Miami Sharks, hung their logo in the visitor's locker room. Signed by the director and cast, that logo now lives in the Cowboy's new home at AT&T Stadium.

2002 - Before he won first place on Dancing with the Stars, former Dallas Cowboys Emmitt Smith became the NFL's All-Time Leading Rusher, surpassing Walter Payton's record of 16,726 yards. His total of 18,355 yards has yet to be surpassed. Smith was elected to the Pro Football Hall of Fame in 2010.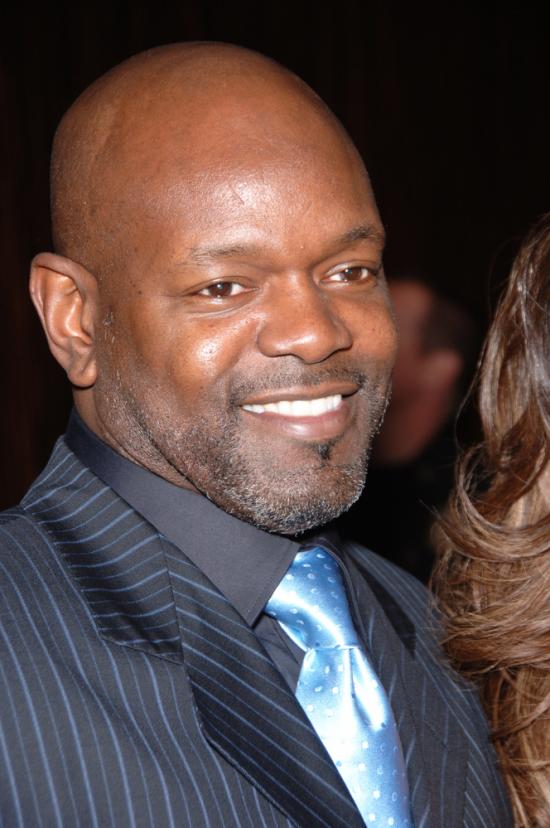 Emmitt Smith, NFL's All-Time Leading Rusher. Credit: Paul Smith  

Even today, Texas Stadium sets the standard for NFL stadiums. When it opened in 1971, it was considered a breathtaking, state-of-the-art facility, with a price tag of just $35 million. Fans paid for the stadium by purchasing bonds, what are today's equivalent of personal seat licenses. 

 
The Last Tailgate Party
Alas, Irving said its last goodbye to the Dallas Cowboys after their 2008 season when America's Team moved into their new $1.2 billion AT&T Stadium in nearby Arlington. Rarely used over the next year and in much need of repair, in 2009, the Irving City Council hired Jacobs Engineering Group, Inc. to determine the best way to demolish the stadium. Deciding that implosion was a much safer and faster method, compared to conventionally dismantling the building, the council then awarded Weir Brothers a contract just under $6 million to carry out the implosion plan outlined by Jacobs.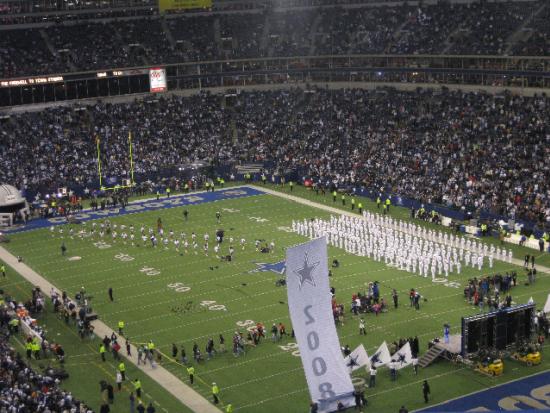 On Dec. 20, 2008, the Dallas Cowboys played the Baltimore Ravens in their final game at Texas Stadium  

After dismantling the interior using environmentally friendly practices, and relocating many of the cherished items to Arlington, it was time to push the explosives button. But who would take that honor? KRAFT Macaroni & Cheese held a national essay contest for students to write about a positive, dynamic impact they made to their community.  Eleven-year-old Casey Rogers of Terrell, Texas was the lucky winner. His backstory included being a former foster child and founding his own charity - Casey's Heart - to help with the homeless of Dallas.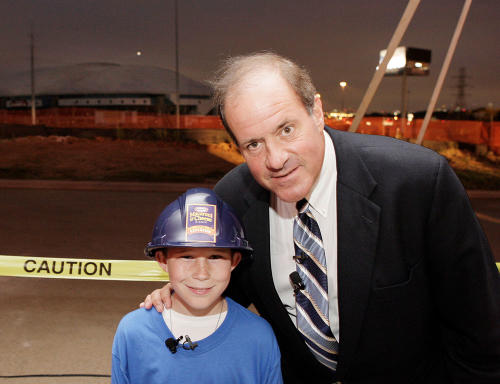 Kraft Macaroni & Cheese contest winner Casey Rogers & ESPN's Sunday NFL Countdown host Chris Berman   Kraft Macaroni & Cheese commercial including the stadium implosion  

At sunrise on Sunday, April 11, 2010, with cameras steadied, his thumb poised, spectators holding their breaths, and a few loud pops, the stadium fell like the end of a hard day's work.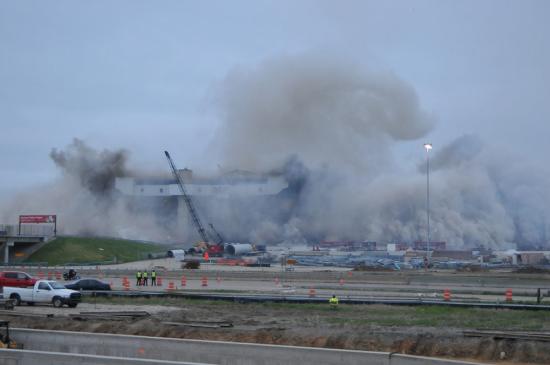 Texas Stadium during implosion  

Well, it fell except for three steel beams standing among the rubble. Here in Irving, we like to think the beams were Tom Landry, Tex Schramm and Clint Murchison, the Cowboy's first head coach, team president and original owner, watching over the demolition process.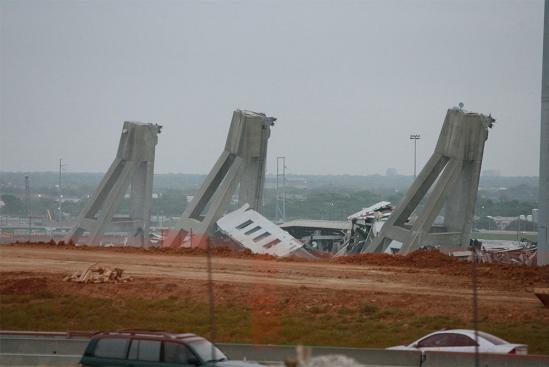 Texas Stadium site directly after implosion  

For almost four decades, the greatest players in the sport performed their magic within its hallowed walls. Two of my sisters graduated there. I listened to the Allman brothers, Joe Walsh and the Backstreet Boys there. My baby girl performed a cheerleading routine on the star when we won our high school's State Championship. And with the push of a button and nearly three thousand pounds of dynamite, a small, unassuming boy brought it down. Thousands of fans showed up in the predawn hours to watch the event. Former Cowboys players came to say goodbye. ESPN's Chris Berman flew in to emcee the explosion. It was a sad day for us all, the end an era. Texas Stadium joined other icons in the rubble of progress and fell asleep for the last time. 

 
Visit the stadium's history
At the Irving Archives & Museum, you can visit Texas Stadium's history through various media. Relive the glory days of Staubach, Dorsett, Too Tall, Aikman, and others on Wednesday through Saturday, 10 a.m. - 4 p.m. Admission is $7 for adults and $5 for children ages 4-17 or seniors 65 and older.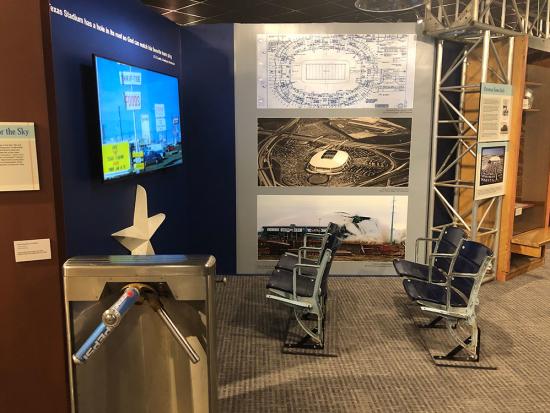 The Texas Stadium exhibit at Irving Archives and Museum

 

Now that you know a little more about the history of Texas Stadium, try working this mystery puzzle below. Just click on the image below. Good luck!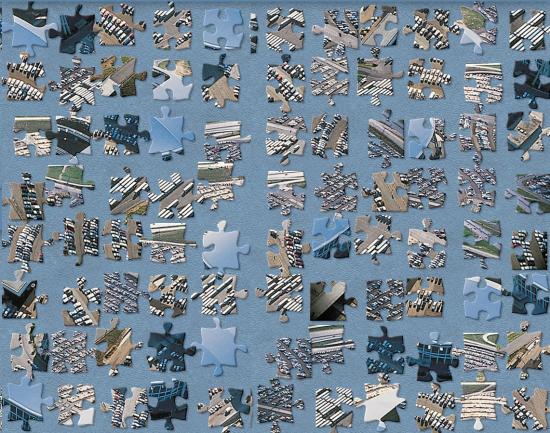 Previous activity pages: