You've decked your halls with boughs of holly, triumphed over the supply chain bottleneck with gifts wrapped and under the tree, and you've watched holiday movies with the fam until you can quote the answer to "Why is the carpet all wet, Todd?" It's time to sit back and relax with a glass of wine by the fire, you deserve it. All that's left for a perfect Christmas is planning, purchasing, preparing and serving a delicious holiday meal. Well, let someone else do it this year. We've compiled a list of Irving restaurants with little elves to help you feed your guests. From a full dinner to desserts to non-traditional meals, yule sing with joy at these selections.
FEAST OF THE SEVEN FISHES
Lamberti's Ristorante and Wine Bar  |  7701 N. MacArthur Blvd  |  972.506.3000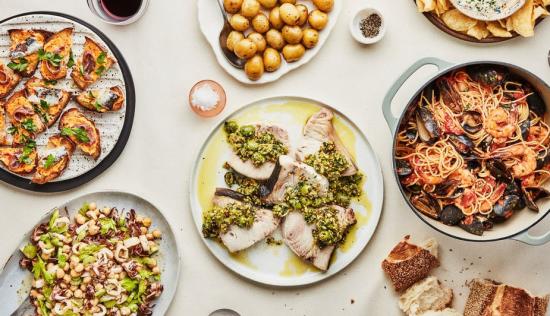 This traditional Italian-American Christmas Eve meal consists of seven different seafood dishes, which commemorates "La Vigilia" or The Vigil of waiting for the midnight birth of baby Jesus. At Lamberti's Ristorante and Wine Bar, you can celebrate the holiday with a three-course Feast of the Seven Fishes meal on Thursday and Friday, Dec. 23 and 24, from 5 to 9 p.m. Prices are $39.95 per person and reservations are required. Don't let this special opportunity swim away, call or book online today.
MAMA SAID YOU'LL LOVE HER COOKIN'
Mama's Daughter's Diner  |  2412 W Shady Grove Rd  | 972.790.2778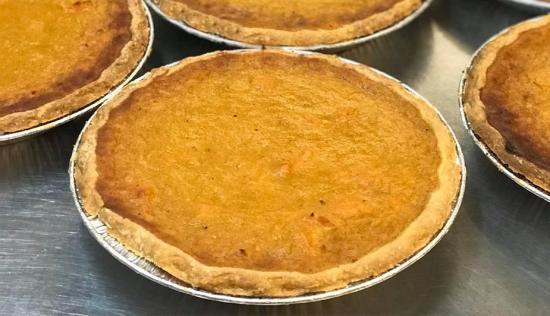 Mama makes all her home cooked meals, pies, cornbread and rolls from scratch every day, so you don't have to. This Christmas, you can order accompaniments to your own traditional meat with a la carte options like cornbread dressing, giblet gravy, vegetables, and rolls or cornbread. And don't forget the dessert. Mama has whipped up her famous coconut, chocolate, pumpkin, pecan, apple crumb, and sweet potato pecan pies. It's easy to order using Mama's Holiday Order Form, which includes pricing. But hurry, the last day to order is by 2 p.m. on Tuesday, Dec. 23. 
A WHOLE LOTTA FOOD
Whole Foods Market  |  6741 N MacArthur Blvd    

If you're looking for a whole lot of mingle for your jingle, you've come to the right place. The chefs at Whole Foods Market offer a full holiday dinner or just the sides. Choose from prime rib, beef Wellington, lamb shanks or the classic roast turkey dinners. There's paleo and vegan options too. Be sure to order soon, there's a minimum 24-hour turnaround for holiday selections and 48 hours for everyday selections. Prices range from around $19 - $29+ per person, depending upon selection.
GLORY BE, THAT'S A HOME-COOKED MEAL
Glory House Catering  |  109 S Main St  |  972.259.1123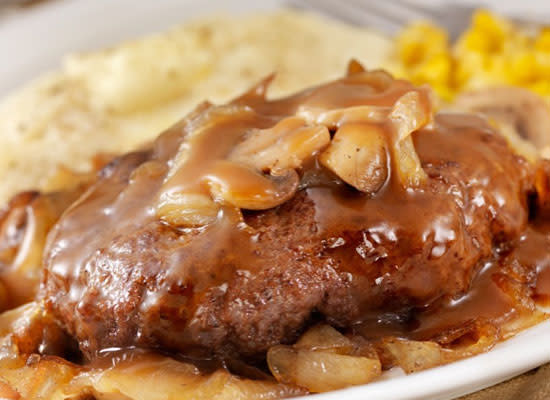 Choose from a wide assortment of gourmet appetizers, such as caramelized onion and goat cheese pastry squares, smoked turkey crostini or bourbon sausage bites. The Glory House signature salads are almost a meal by themselves. But the shining stars are their holiday dinners including roasted turkey breast, French onion cranberry brisket roast, beef burgundy roast, cranberry barbecue beef meatballs, pork roast with apples, or bourbon sausage and cranberry barbecue chicken. There are many other options that are just as drool-worthy. Prices range from $14.99 to $18.99+ per person. Meals can be delivered with full set-up or picked up at the restaurant.
YOU BET YOUR BUFFET
The Ranch at Las Colinas  |  857 W John Carpenter Fwy  |  972.506.7262  
Don we now our western apparel because we're headed on down to The Ranch for a Texas-sized Holiday Brunch Buffet on Sunday, Dec. 19, from 10 a.m. to 3 p.m.  It wouldn't be The Ranch if there weren't some carving stations and mimosa or bloody mary bars around.  Chef Bell will round out the rest of the meal with some good ol' farm to fork fixin's. Reservations are highly recommended so you don't have to eat on your saddle. Prices are $48.95 for adults, $19.95 for children ages 9-13, $12.95 for children ages 5-8, and children 4 and under eat free.
If you just need some dessert, The Ranch can fix you up with one of their legendary Route 66 pecan pies. That's puh cahn' if you weren't sure how it's rightly pronounced. Please allow 48 hours notice for the pies. Cost is $45 for a full pie or $9.95 if you just need a slice. My opinion? Get the full pie to save you a trip, because after one slice, you're going to want more.
PAHK THE CAH FOR SOME WICKED GOOD FOOD
Boston Market  |  5487 N MacArthur Blvd  |  972.756.0772 Boston Market  |  2705 N Belt Line Rd  |  972.594.6014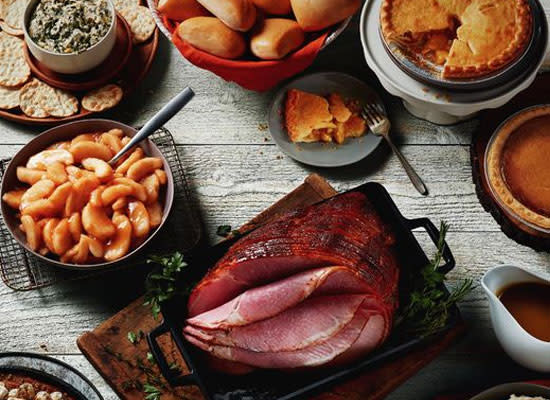 My apologies to my family in Boston, but that's really how they sound. I'm not kidding about the wicked good food at Boston Market either. (I bet you read that as Bahstan Mahket.) Complete with sides, rolls and pie, you can choose from a roasted turkey breast, honey glazed ham or their signature rotisserie chicken holiday dinner.  Prices start around $14 per person with a minimum order for 10. 
INFUSE SOME WHISKEY INTO YOUR HOLIDAY
Whiskey Cake  |  3225 Regent Blvd  |  469.941.2253  
Whiskey Cake takes the guesswork out of preparing a holiday meal with their Ready to Roast Christmas Meal Kits. The meals begin at $115 for four to six people with your choice of a certified angus beef roast with creamed horseradish sauce or citrus-pepper crusted roasted bone-in pork rack. Add the sides of garlic and parmesan creamed Brussels sprouts, herb roasted fingerling potatoes and mushrooms, farm salad, and rolls with whipped sorghum butter and you'd better be wearing your stretchy pants to dinner. You can decide on an assortment of add ons for an additional cost, but we all know what you're waiting for me to describe. Desserts include their brown butter bourbon pecan pie ($26), a whole whiskey cake ($57) or half ($29). Make that your LARGE stretchy pants. Call to order now for pick up on December 22 to 24, 11 a.m. to 7 p.m. 
LAY DOWN THE LAW FOR AN EXQUISITE HOLIDAY 
LAW Restaurant  |  4150 N MacArthur Blvd  |  972.717.2420  
Four Seasons Resort and Club Dallas at Las Colinas needs no introduction. In fact, I'll save my words to describe the different ways they're celebrating the holidays with food this year.
Santa's Holiday Shoppe
Find hand-crafted specialty items from each of their chefs for one-of-a-kind treats to gift to loved ones (or savor for yourself). Select from LAW Restaurant Chef Paolo's Sourdough Pumpkin Loaf, Executive Sous Chef Nicholas' Apple Butter, Executive Pastry Chef Yudith's Christmas Cake, Executive Chef Christof's Chipotle Cranberry-Orange Jam and more. Open Thursday through Sunday, Dec. 2 to 25, from 7 a.m. to 3:30 p.m. Prices vary per item.
HOLIDAY AFTERNOON TEA
Enjoy a traditional tea service on Saturdays, Dec. 11 and 18, from 1 to 4 p.m. featuring Ikaati hot teas paired with sweet and savory bites while overlooking the Resort Pool. Gluten free options available. Pricing is $32 per person. Be sure to call at least 48 hours in advance to make reservations at 972.717.2420.  View menu.
BREAKFAST WITH SANTA
Santa Claus is coming to town on Saturdays and Sundays, Dec. 11, 12, 18 and 19, to enjoy breakfast at LAW. Kids, bring your Christmas wish lists, or write a letter in the hotel lobby to let Santa know if you've been naughty or nice! Reservations can be made by calling 972.717.2420.
CHRISTMAS EVE DINNER
Prepare for a long winter's nap with a festive a la carte holiday dinner menu on Friday, Dec. 24, from 5 to 10 p.m. Reservations can be made by calling 972.717.2420. 
CHRISTMAS DAY BRUNCH
Savor the flavors of the season on Saturday, Dec. 5, from 10 a.m. to 2:30 p.m. with a 5-course prix fixe brunch with traditional holiday classics. Pricing is $105 per adult. Reservations can be made by calling 972.717.2420. View menu.
TAKE HOME CHRISTMAS DINNER
LAW's holiday feast includes traditional roast turkey, Akaushi roast beef ribeye roll or roasted leg of lamb, with appetizers, sides and desserts. Pricing is $400 for a turkey meal; $540 for roast beef ribeye; $510 for leg of lamb. All meals serve 8. Add a bottle of wine or a mimosa kit for an additional $65 per bottle. Call LAW Restaurant at 972.717.2420 to order, deadline is 5 p.m. on Thursday, Dec. 17. 
LAISSEZ LES BON TEMPS ROULER!
Po Melvin's  |  4070 N Belt Line Rd  |  972.255.3919  
We don't really want you to slap yo' mama, but Po Melvin's cooking is so good, it'll make you want to. Let Mel and his merry elves do all the cooking for you this Christmas. Now, if your mama is a southern gal, she'll really appreciate what's on the menu with cran-apple salad, pork tenderloin, twice baked potatoes, green beans, black-eyed peas, dinner rolls, millionaire pie, and freshly brewed iced tea. Pricing is $129 for six people and $229 for 10 people. Call 972.255.3919 to place your order.  And to show you what a kind, southern gentleman our Mel is, he was able to collect for Toys for Tots at a toy drive on December 4. But it's not too late if you missed it, there are several ways to donate on their website. 
BRING OUT YOUR BEST CHINA 
Fortune House  |  8150 N MacArthur Blvd  |   972.831.9888  
Chinese food for Christmas? Ralphie Parker and his family from the holiday classic "A Christmas Story" would say you betcha! Try their soup dumplings, also known as xiao long bao. They're intricately folded with dough made fresh daily and are packed with fresh ingredients by their Dim Sum chef. Choose between pork, pork and crab, or pan-fried pork soup dumplings. Fortune House also offers a wide variety of non-soup dumplings, appetizers, and entrees. They're open on Christmas Eve and Christmas Day, from 11 a.m. to 3 p.m. for lunch and 5 to 10 p.m. for dinner. Sail to destinations unknown by starting a new tradition this year. 
Snow kidding, order now
Order-by dates are quickly approaching, and reservations are going fast. So now's the time to put your food plan into action, plug in the tree, sit back, relax and let Santa and his elves take it from here. Everyone will enjoy a delightful meal with a bit of Christmas magic in every bite.