It's that time of year again! Fourth of July is a time to get together with friends and family for an all-American experience. Which means FOOD!
Executive Chef of the Irving Convention Center and formerly the Dallas Cowboys, Chef Eduardo Alvarez, has opened his personal recipe book and shared a couple of mouthwatering recipes - a patriotic dessert and a main dish of seared salmon that will make your taste buds explode. Enjoy these classics from our convention center kitchen to yours.
PANNA COTTA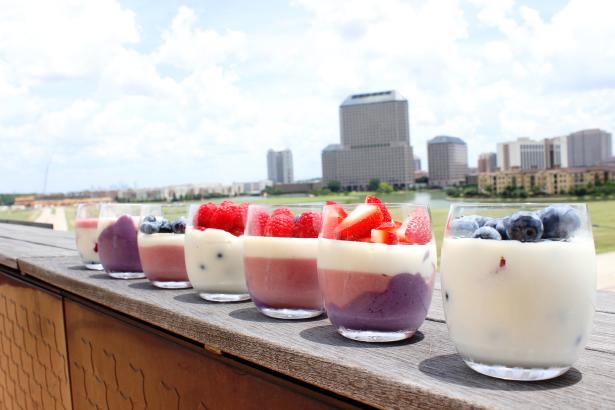 Panna Cotta is an Italian dessert of sweetened cream thickened with gelatin and molded. Totally not in the recipe but the cream may be aromatized with rum, coffee, vanilla, or other flavorings. So feel free to get creative.
INGREDIENTS:
3 cups heavy whipping cream
1.5 teaspoon unflavored gelatin
1 tablespoon granulated white sugar
1 vanilla bean split and seed scraped
1 basket blueberries
1 basket raspberries
1 basket strawberries​
DIRECTIONS:
Pour gelatin in small bowl with 2 tablespoon of water and set aside.
In a medium thick pot pour cream, sugar, scraped vanilla beans, over medium heat.
Bring to a simmer stirring constantly until sugar is dissolved.
Add gelatin mixture to heated cream, stir constantly until dissolved.
Divide berries evenly into 8 oz martini glasses to your liking.
Add the panna cotta evenly and refrigerate until firm, about two hours
BARBEQUE RUB SEARED SALMON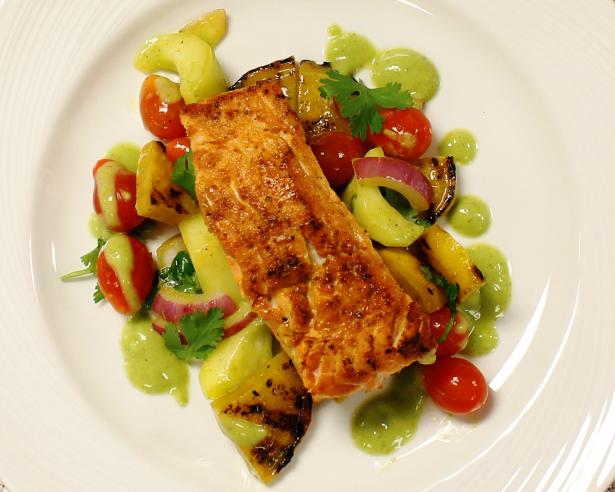 This easy dish is on the short list for weeknight meals that hits all the criteria: fast, healthy, filling, and killer good. Simply seasoned, the salmon is pan seared until the exterior is super crispy while the interior remains buttery soft.
INGREDIENTS:
4 pieces of fresh salmon 4-5oz

2 tablespoons of canola oil (to sear the salmon)

1 cucumber

¼ red onions

1 bunch of cilantro

2 medium gold beets

8 oz red pear tomatoes

3 oz cilantro dressing (see recipe)

Salt and white pepper to taste
DIRECTIONS:
Wash all vegetables with running cold water.
After cilantro is washed, set it over paper or cloth towel to dry, save ¼ of bunch for salad.
Peel gold beets and grill, after grilled set aside and let it cool.
Peel cucumber and cut in half lengthwise, take seeds out with small spoon and set aside.
Cut red onions in julienne, add to the cucumbers.
After all vegetables are done, mix all together with the cilantro dressing, add salt and white pepper to taste.
Season salmon with your preference of BBQ seasoning and sear with canola oil on med hot pan until golden brown.
Finish salmon in the oven at 350 degrees F for 8 minutes or until it reaches 145 degrees.  Serve over salad, add more dressing if desired.
Cilantro Dressing:
2 oz Dijon mustard
4 oz White wine vinegar
4 oz Canola oil
Salt and white pepper to taste
In blender add ¾ bunch of cilantro Dijon mustard, start blender at med speed and slowly add vinegar and oil, salt and white pepper to taste.
Bon Appétit!