One of my favorite summertime activities is to visit our local museums and art galleries. Experiencing culture, fine arts, and history in a peaceful and thought-provoking setting satisfies my need for adventure. Unfortunately, this year has brought us social distancing and limited indoor activities instead. If you're like me during these times, you're choosing patios over dining rooms and outdoor workouts over indoor gyms.
So what are we to do when we want to see local art in Irving while remaining outdoors? Luckily, Irving is chock-full of incredible outdoor sculptures and art installations to get us through until we can fully enjoy the likes of the Irving Arts Center halls and Irving Archives exhibits; both of which are actually offering virtual tours so be sure to check those out. 
Now, grab your car or bike and let's take an outdoor art tour of Irving! 
Mustangs of Las Colinas
5221 North O'Connor Road Suite #110E
A Las Colinas icon, everyone should experience the beauty of the mustangs! Created by African wildlife artist Robert Glen, these wild horses run larger-than-life through a granite fountain stream. While the museum for the Mustangs of Las Colinas may be temporarily closed, spending an afternoon gazing upon the impressive art piece will leave you wanting to seek adventure and drive with the windows rolled down. Nearby are all the incredible restaurants that make up Water Street and the local favorite spots like Lake Carolyn and the Mandalay Canals. 
Flower Clock - Las Colinas 
O'Connor Blvd. and John Carpenter Freeway
Also located in Las Colinas, the beautiful Flower Clock welcomes visitors and residents to the Las Colinas community. The clock is functional and is continually adorned with fresh, seasonal blooms, creating a beautiful site year-round!
Irving Arts Center
3333 North MacArthur Blvd.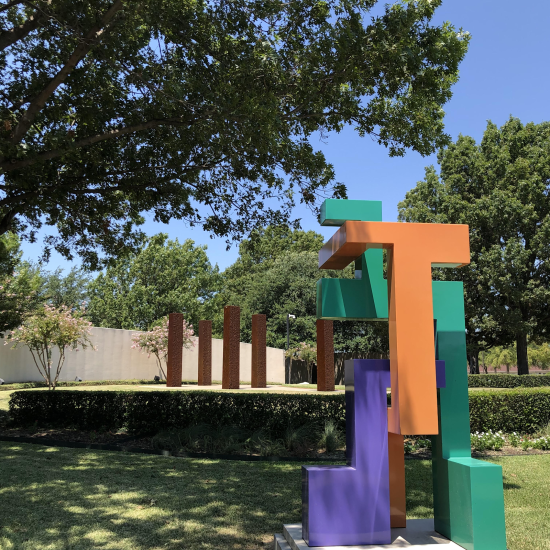 The Irving Arts Center is an incredible facility offering art organizations, exhibitions, and galleries. They are open to the public every day except Thanksgiving and Christmas but are temporally closed during the pandemic. While I highly recommend to everyone they should visit the Irving Arts Center at least once, it's not necessary to go inside the building to experience beautiful art. The courtyard of the center is a dreamy maze of impressive sculptures and water features. Each sculpture will have an information plaque about the piece and the artist, which most are from right here in Irving and Dallas! Marvel at the metal Star Flower, the colorful Trio, and the Irving Centennial Mural. While it may not be the full experience of the Irving Arts Center, it's a great way to stay socially distant and experience some amazing art! 
Mahatma Gandhi Memorial Plaza
1201 Hidden Ridge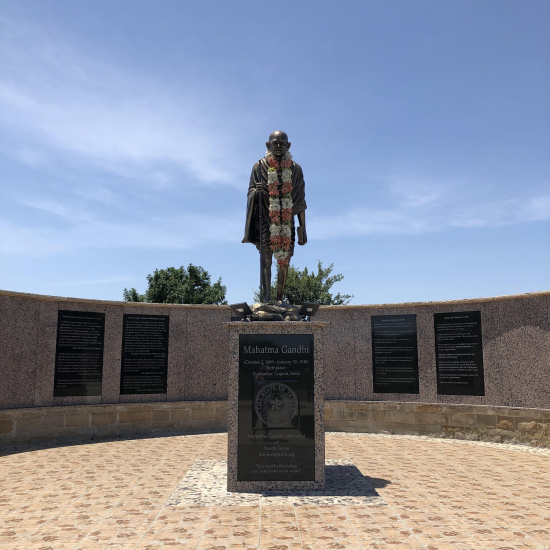 A beautiful presentation by the Indian American Friendship Council and the India Association of North Texas, the Mahatma Gandhi Memorial Plaza features a detailed statue of Gandhi as well as the history and inspiring quotes by Gandhi. The plaza is located at Thomas Jefferson Park so you can enjoy a full day with a stroll around the 1-mile loop lake, a picnic on the expansive grass areas, and leave the day with the words and wisdom of Gandhi! 
Centennial Park
444 W. Second Street
Irving's Centennial Park celebrates the 100-year history of our great city! Walk around Founder's plaza to learn all the significant milestones from the past 100 years. Cross the nearby bridge to Arrival Plaza and see the statues of founders J.O. Schulze and Otis Brown. Make a full day out of it and enjoy the walking trails there. Get a to-go meal from nearby Joe's Coffee Shop and enjoy a picnic at the pavilion in the park on the shores of the lake. There you will see the pavilion tower with a 30-foot light spike that symbolizes Irving's shining future. 
Marble Cow Sculptures
Riverside Drive northeast of John Carpenter Freeway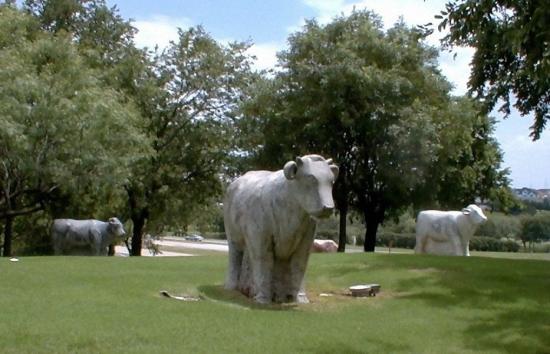 The rolling hills of Las Colinas were once dotted with ranch cattle and cattle hands. Irving's Marble Cow Sculptures serve as a tribute to these ranchers, their lands, and their way of life.  Harold Clayton, the artist who sculpted these beloved creatures, studied Old World carving techniques in Italy. He began the project by sketching live cattle and in turn, created 20 cattle sculptures. These marble marvels are grouped into herds located in Irving, Dallas, Austin, and Milwaukee. The small herd of five Irving Marble Cow Sculptures were lovingly named Lucy, Margaret, Ruth, Elsa, and Annette by the artist. 
Origami Pegasus 
Cypress Waters Blvd. and Hackberry Rd.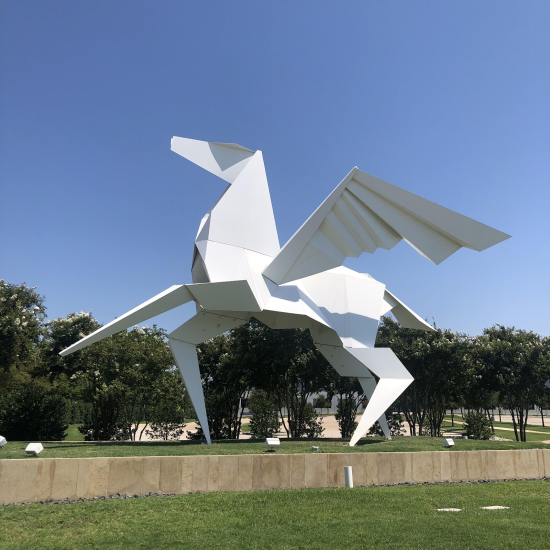 Last stop on the Irving outdoor sculpture tour takes us to one of my favorite art installations, the Origami Pegasus. You can find this incredible piece at Cypress Waters located at the intersection of Cypress Waters Blvd. and Hackberry Rd. The official name of this 21-foot sculpture is "Hero's Horse Monument" and was sculpted by Kevin Box. Simple, yet striking, I can't help gazing at it for a few moments every time I pick up food from the nearby restaurants like Gipsy Lime and Siena Cafe.
I hope one day soon we can all be carefree and enjoy museums and galleries, but until then Irving has some great outdoor options to see beautiful art! Enjoy Irving, y'all!