Irving Rocks! this weekend with tons of live music right here in the heart of Las Colinas!  Some bands are local, some are here for a visit, but all are ready to give you a rockin' good time.  We've highlighted below our top five choices for live entertainment, but as always, there's plenty more.
And as a bonus, the National Business Media (NBM) Show is in town this weekend with a wide variety of products, services and supplies to help showcase your business.  From promotional products and apparel to electric signs and the latest electronic gadgets, you gotta go check them out.
WHO:  Excision 2020 Featuring The Evolution w/ Wooli, PhaseOne & Champagne Drip
WHEN:  Fri, Mar 13 at 7:00 pm
COST:  $49 - $50+
The Pavilion at Toyota Music Factory is a unique concert venue that can convert from a 2,500 intimate theater to a 4,000 capacity indoor arena, and then open up further to an 8,000-person capacity open-air pavilion.  This Friday's show is all indoors and brings you Excision - a virtual apocalypse of twisting and morphing sounds, smashing the bodies of headbanging fans.  LEARN MORE
WHO:  DJ GNGR
WHEN:  Fri, Mar 13 at 8 - 11 pm
COST:  Free
Come Party on the Plaza! either after the Excision concert or while enjoying a meal at one of the Toyota Music Factory's restaurants.  This open air plaza, complete with lawn furniture, is a perfect place to be social or just rock out to great music. This Friday the electric vibes and infectious beats of DJ GNGR will light up the plaza.  LEARN MORE
WHO:  Alex Bellin
WHEN:  Fri, Mar 13 at 7:30 pm - 12 am
COST:  No Cover Charge
If you haven't been to Mama Tried yet, you should go check it out.  It's a good 'ol, down home Honky Tonk where you can rock the dance floor in your boots. With a large bar in the center of the room and another one that seats 30, you won't go thirsty (or hungry for that matter). Its main feature is the dance floor and great live music that gets your boots a scootin'.  This Friday, Alex Bellin is just the man for the job, bringing dance hall country back, one steel guitar at a time.   LEARN MORE
WHO:  Cale Moon
WHEN:  Fri, Mar 13 at 8 - 10 pm
COST:  No Cover Charge
The Ranch at Las Colinas prides itself on a Farm to Fork supply chain focusing on vendors from Texas who can provide the freshest and most local ingredients. Just go to their website and read all the rave reviews from food bloggers and local media. So what pushes this place over the edge of eating nirvana is the addition of live music.  This Friday, come hear Cale Moon who's been captivating crowds all across the U.S.  With intoxicating vocals and a personality for the stage, his high energy and laid back style is an entertainment dream.  LEARN MORE
WHAT:  The Tap Pack
WHEN:  Fri, Mar 13 at 7:30 pm
COST:  $21.50 - $41.50
Since 1990, the Irving Arts Center has been a lively hub for community events, exhibitions, plays, concerts and much more. This Friday, Tap Pack gives an elegant and entertaining nod to the Rat Pack era featuring high energy performances of mind-blowing tap dancing, smooth vocals, a swinging live jazz band and witty on-stage banter. The five-member male Australian cast wins the audience from the first downbeat and the pace of their amazing performances never slows. They joke, they compete, they croon and they cajole while performing cool classics with a fresh twist.  LEARN MORE
---
THE NBM SHOW
WHEN:  Thu-Fri at 7:30 am - 4:00 pm and Sat at 7:30 am - 3:00 pm
COST:  $25
The NBM Show is a business-to-business trade show for professionals in the awards, engraving, signage, digital printing and apparel decorating markets. Experience the lively exhibit hall, classes taught by industry experts and endless networking opportunities!  Your $25 event registration includes: Entrance to the exhibit hall for three days, unlimited training in the classroom and in the hall, access to the recognized professional program, admission to the after hours networking event on Friday evening, and chances to win $500 in Buyer Bucks each day.  LEARN MORE
---
TAKE A PEEK AT NEXT WEEK ...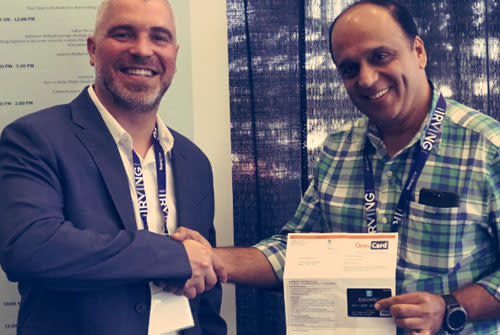 WHAT: ElevateIT - DFW Technology Summit 2020
WHEN:  Wed, Mar 18 at 7:00 am - 4:00 pm
WHO:  IT and Cybersecurity Practioners
COST:  Free**
IT and Cybersecurity Practitioners, don't miss the ElevateIT: DFW Technology Summit 2020 at the Irving Convention Center on Wednesday, March 18 from 7:00 am - 4:00 pm.  Admission to the summit is free**, and it brings together a who's-who of the area's technology elite for a full day of networking, educational presentations, vendor evaluations, and career development. So don't miss your chance to mingle with the best and brightest, earn 6 CPE Credits while attending both vendor and non-vendor presentations, and be entered to win a $2,500 Pre-Paid Visa Grand Prize Giveaway. Free Parking, Lunch, and a Hosted Happy Hour Reception are also included with Admission. Visit: https://bit.ly/2H5Ul7L and use code: GADFW20 for complimentary admission.  LEARN MORE

**Please note that free admission code is only valid for hashtag#IT & hashtag#Cybersecurity practitioners and executives. Sales and Marketing reps will need to sponsor in order to attend.**
---
For more music, family friendly fun, and a wide array of fun things to do, visit our website at www.irvingtexas.com/events.  And while you're out exploring Irving, be sure to tag us in your posts and stories with #VisitIrving and/or #IrvingRocks. We want to see pictures of you and your friends having fun! And be sure to follow us on Facebook, Twitter and Instagram to stay in the know.  Enjoy every moment of the weekend!