If you haven't had a steak at Cool River Cafe, well then you just haven't had a steak. It's definitely my recommendation for a nice evening dinner.  But for lunch?  Unless you can crawl under your desk and take a siesta once you're back at the office, you might want to check out one of the lighter dishes now being served at Cool River.
I sat down with Event Sales Director, Briana White, who caught us up on all that's happening at Cool River. We found out there's a new chef in town and he's adding his own flair to an already bustling restaurant in the heart of DFW. His name is Dillon Koen, and he's been in the game for a while. Dillon made his way from Del Frisco's Grill and Table 13 to join the team at Cool River.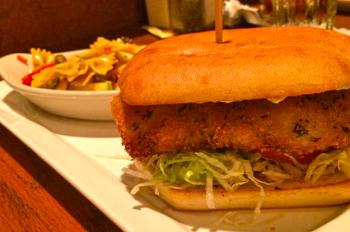 You can go ahead and thank Koen, he's working on serving up new items on the menu that are lighter, and will keep you from dozing off during your three o'clock. A few of the lighter (keep you awake) options are the Panko Crusted Grouper Sandwich served with bowtie pasta, Seared Ahi Tuna Salad, Three Fork Salad or the American Southwestern Burger served on a pretzel bun.
Though they all sounded great, I went for the Grouper Sandwich. I'm happy to report it's a tasty lunch-time option. It's not your boring 'ole fish sandwich. It really packs a punch! The grouper is complimented with a roasted pineapple, ginger and dill mustard that dances on your taste buds perfectly.  And then it's topped off with lettuce, tomato and onion. Their bowtie pasta served on the side keeps it extra light but extra tasty. It was just the right amount of upscale food without the belching and bloating to go along with it.
So next time you're in the area and you want great, quick and friendly service, roll on through Cool River Cafe and try something on the lighter side...then come back for dinner for that big Texas steak. Get there early, cause even at lunch the place fills up fast. See, people in Las Colinas know it for its great food and fun atmosphere. It's a hot spot for business lunches and social hours – and the food is picture worthy, so go ahead, don't be embarrassed. Pull out your phone and take a picture, then post it to Instagram (with #VisitIrving of course), I absolutely won't judge you.
See y'all at Cool River!
Quick Facts: Location: 1045 Hidden Rdg | (972) 871-8881 Menu | Website | Facebook | Twitter
Hours: Monday-Wednesday 11 a.m.-12 a.m.; Thursday-Saturday 11 a.m.-2 a.m.; Sunday 11 a.m.-12 a.m.